SEA AXIS Yacht Description
SEA AXIS yacht is a 125.00 ft long motor yacht monohull and spends the season in Mallorca. It was built by Heesen in 1988. A refit was done in 2019. The yacht layout features 5 cabins and accommodates 12 guests. The cabin arrangement is following: 3 king cabins, 2 twin cabins, 2 pullman cabins.
The motor yacht features Twin 1,250hp Deutz 65 kW Northern Lights engines .
SEA AXIS Yacht Details
€87,500 - €125,000
Weekly price low-high season
70 US Gall/Hr
Consumption
SEA AXIS yacht charter price

| # of charter days | Base Price | APA (deposit for provisioning, fuel, docking fees, etc) | Taxes: 21%%, exceptions available | Total | | Note |
| --- | --- | --- | --- | --- | --- | --- |
| 14 day charter | 175,000€ to 250,000€ | 35,000€ to 75,000€ | 36,750€ to 52,500€ | 246,750€ to 377,500€ | | Discounts outside the main season are common. |
| 7 day charter | 87,500€ to 125,000€ | 17,500€ to 37,500€ | 18,375€ to 26,250€ | 123,375€ to 188,750€ | | Standard charter rate, base for all calculations. |
| 3 day charter | 43,750€ to 62,500€ | 8,750€ to 18,750€ | 9,188€ to 13,125€ | 61,688€ to 94,375€ | | The usual formula is the 7 day charter rate divided by 6, times the number of days (3). Boat policy might differ. 87,500€ / 6 * 3 days = 43,750€ |
| 1 day charter | 14,583€ to 25,000€ | 2,917€ to 6,250€ | 3,063€ to 4,375€ | 20,563€ to 35,625€ | | Please inquire, the possibility/availability of a 1 day charter needs to be verified. |

All prices are generated by a calculator and serve as a guide for new charterers. Any additional information of the Price Details section has priority over above. Availability is always subject to confirmation. Gratuity not included for it's discretionary character, usually 5%-25% of the Base Price.
Price Details
High season rate: €125,000
Features
BBQ: 0
AC: Full
Cruising Speed: 12 knots
Max Speed: 17 knots
Diving Yacht offers Rendezvous Diving only
Communication:
State of the Art A/V and Crestron system throughout the decks with multi-zone touch pads allowing for full control of music throughout the vessel. Sea Axis has a large music and movie library for all genres. The promenade outdoor seating and "Drive-In" style movie experience is one of a kind; with top of the line reverse, short-shot projection onto a 130" screen for some of the best outdoor movie viewing. The Lido deck bar has been completely refitted with 4 built in subwoofers and 6 overhead and side speakers giving top of the line sound quality.
Air Compressor:
Not Onboard
Scuba On Board:
Yacht offers Rendezvous Diving only
Water Sports
Dinghy Hp:
900 hp (671 kw)
Crew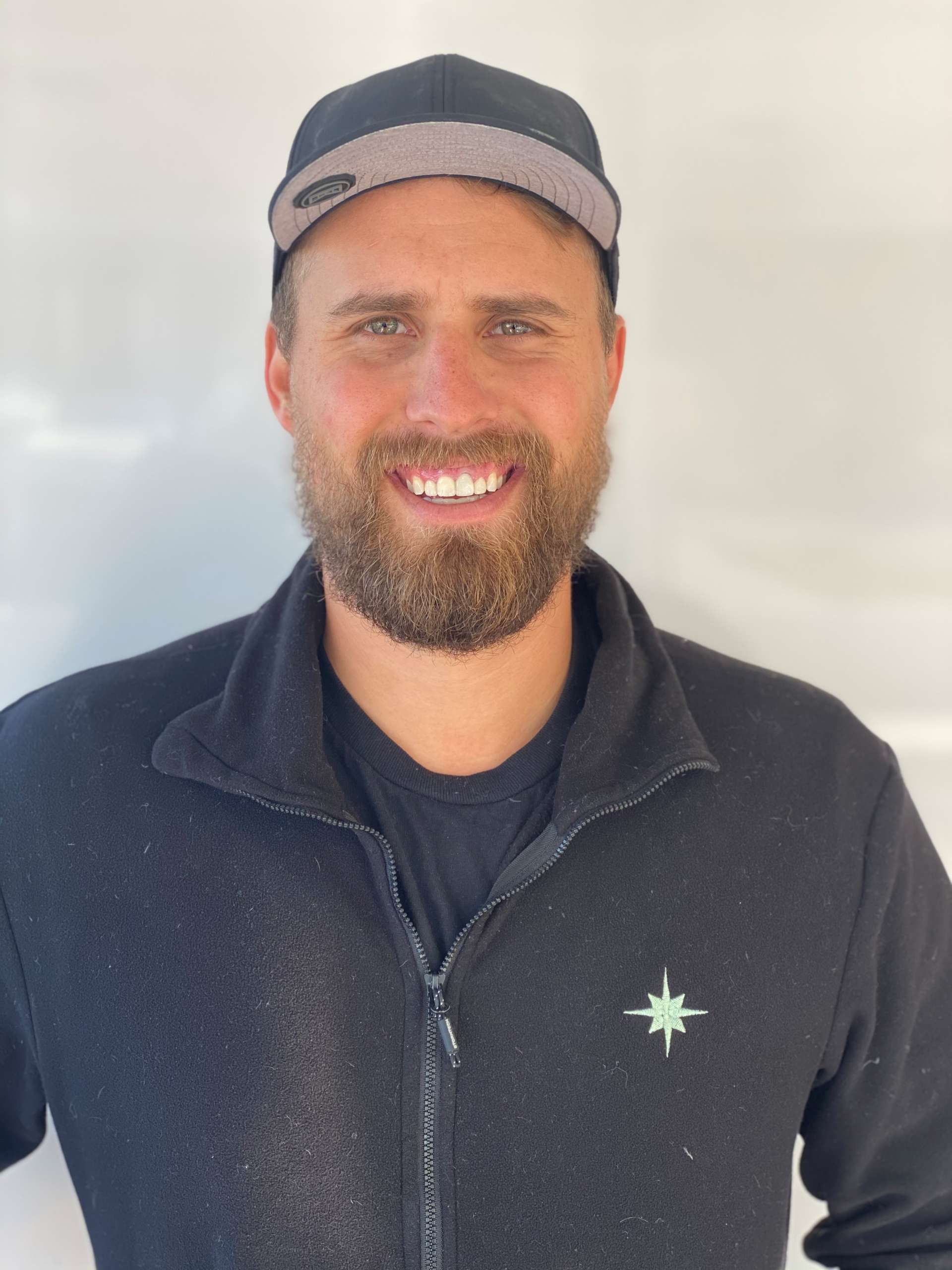 Captain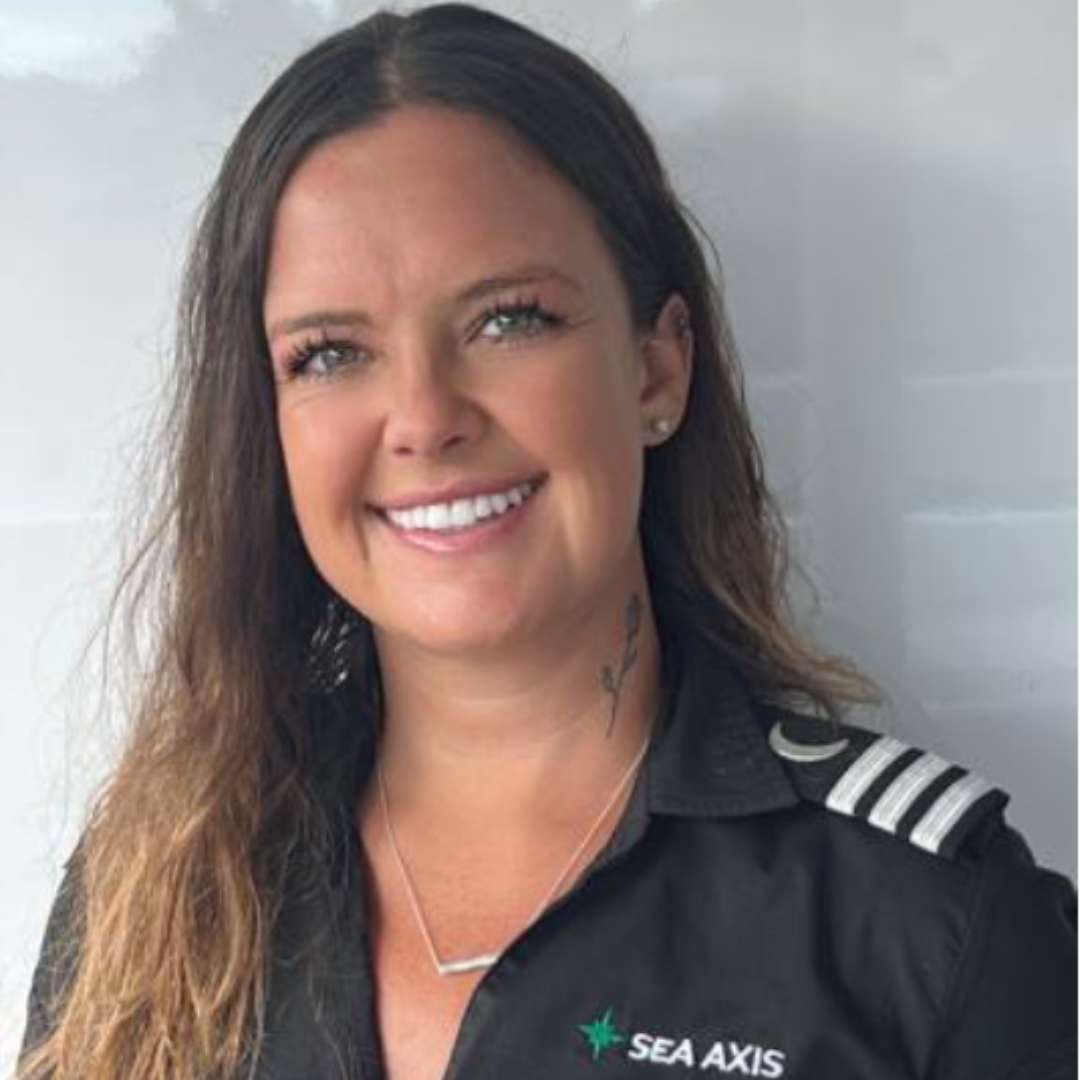 Chief Stewardess
Captain- Nick Veselica

Nick was born and raised in Chicago, Illinois. He grew up sailing and power boating with his father in Lake Michigan and spent many summers in South Florida. Nick and his father rebuilt a sunken catamaran during his high school years then sailed the Bahamas during holidays for many years. Nick moved to South Florida in 2009 permanently due to his love for the ocean. He graduated from Lynn University in 2012 with his Bachelors in Business Administration. During his time in school, he worked on yachts as a mate and then as a captain.

Nick has now been working on yachts for 10 years and has managed a successful Yacht Management company. He also has completed numerous yacht refits. Nick has a passion for project management and enjoys seeing the reaction of a happy client.

Education: Bachelor's in Business Management, STCW, Advanced firefighting, 200 Ton USGC / 500 Ton IGT



First Mate- Bryan Meltcher

Bryan was born in Illinois and raised in California. He relocated to Florida for school in 2005 and fell in love with the ocean. He has spent most of his time in South Florida around boats. Bryan jumped into the industry because of all the traveling he has done on his friend's boats and loved the idea of working on boats.

Before yachting Bryan worked in high-end hotels so it has been a nice transition from one to another. Bryan does not see himself doing anything else and feels he has found his place. Bryan has now worked in the yachting world for 7 years.

Education: Bachelor's in Hospitality and Sports Management, STCW 95' Powerboat level 2 inland/coastal planning, RYA Essential navigation and seamanship, Basic and Advanced firefighting.



Chef- Nelson Cartegena
Language Spoken: English, Spanish

Chef Nelson is Originally from Queens New York. Upon graduating from high school, Nelson enlisted in the US Army where he served 6 years of active duty service. After leaving the service, Nelson attended the University of Central Florida where he studied finance and completed his degree. Finding that he HATED every minute of studying finance Nelson decided to make a change and enroll in Culinary school to follow his passion for cooking. The journey has taken him to several interesting locations around the world. Nelson has been on motor yachts as a Temp. Chef for 4 years and after he spent a year as a full-time Chef in the Leeward and Windward islands. Nelson's hobbies are Fishing / Boating / Diving / Working out / Spending time with loved ones / and Traveling.



Chief Stew- Marissa Milan

Marissa was born in Oklahoma where she spent most of her life. Looking to change things up she moved to Seattle WA in 2014 after four dreary winters there desired a lot more sunshine. That's when she decided to move to Florida and join yachting. Marissa has been yachting for just over a year and a half and is absolutely loving it. In her free time, she enjoys spending time at the beach, biking, paddle boarding, hanging with friends, and the occasional binge-watching session. Marissa looks forward to providing an
exceptional experience and is sure to put a smile on your face.



Second Stew- Sierra Storm

Sierra, a genuine Florida girl, combines her love of service and the sea onboard M/Y Sea Axis. She has also worked as a corporate flight attendant traveling the world. Her passion is health and spends her free time exercising or creating nourishing delicious foods. A thoughtful person by nature, Sierra enjoys fulfilling the needs of everyone in her care.



Chief Engineer- Charles Jones - Engineer
Education/Certifications: STCW 95, AEC 1-2, Advanced Firefighting, Medical First Aid, HELM, Proficiency in Small Craft Rescue Boat, Vessel Personnel with Designated Security Duties
Languages Spoken: English

Charles Jones grew up in the small Jamaican city of Mandeville along with his two older sisters. As a child, his hobbies included martial arts, dancing and playing the violin. He was introduced to yachting at the age of 20; the details that go into the construction and maintenance of a vessel are what inspired him to pursue a career in the industry. He began as a marine vessel repair specialist and devoted 14 years to learning the intricacies of repair, design, custom modifications, and refits on yachts and other vessels. Charlie is excited to join SEA AXIS as Engineer while continuing to expand his knowledge of the yachting industry and strive for excellence in all aspects of his career. When not working on charter yachts, Charlie enjoys rebuilding and riding motorcycles, free diving, jet skiing and other water sports, and exploring new places.




Deck Hand- Cameron King

My name is Cam, born and raised in Indiana and moved to South Florida when I was 19 to pursue yachting. I enjoy working out, hanging out with family and friends, and listening to music during my downtime. I strive to be the best version of myself every day and to help as many people as I can. I have been yachting for 6 years and have a great passion for it and plan to become a yacht captain in the near future.
Gallery
More Yachts Like SEA AXIS
6422
http://www.centralyachtagent.com/snapins/json-ebrochure.php?idin=6422&uid=2395&user=2395
5
Power
N
12
Bahamas
Bahamas
125.00
25'
8' 1

Dive Door and ladder
Air-conditioned Cabin with two twin bed microwave and TV
Airconditioned cockpit with ample seating
Removeable sunroof
Aft Sun Canopy
Fully Equipped for fishing
Dive Tank Holders
JL Audio System
2 GTX 300 Limited Sea Doos with sound system (These are the highest end Sea Doos you can buy)
17' Inflatable Nautica RIB Tender
2 Sea Bobs
Snorkel Gear/ Full Mask Optional with Waki Talki Communication x4
Inflatable Hot Dog
Inflatable 8 person Fiesta Party Raft
Inflatable Teak Docking system with two loungers
On Deck Cinema
Knee Board
Water Skis x 2
Wake Board x 2 (Liquid Force)
On Deck Rope Swing
Inflatable Big Slice Tube
Promenade deck Fire Pit
Board Games
28' Axopar
a:35:{s:12:"salon_stereo";s:1:"0";s:8:"salon_tv";s:3:"Yes";s:6:"sat_tv";s:1:"0";s:17:"multimedia_system";s:0:"";s:4:"nude";s:3:"Inq";s:5:"books";s:0:"";s:9:"crew_pets";s:2:"No";s:8:"pet_type";s:0:"";s:10:"guest_pets";s:1:"0";s:9:"camcorder";s:1:"0";s:14:"number_dine_in";s:0:"";s:11:"water_maker";s:0:"";s:14:"water_capacity";s:0:"";s:9:"ice_maker";s:1:"0";s:14:"number_of_dvds";s:0:"";s:13:"number_of_cds";s:0:"";s:11:"board_games";s:3:"Yes";s:10:"sun_awning";s:1:"0";s:6:"bimini";s:1:"0";s:13:"special_diets";s:3:"Inq";s:6:"kosher";s:3:"Inq";s:3:"bbq";s:1:"0";s:12:"gay_charters";s:3:"Inq";s:17:"yachtNudeCharters";s:3:"Inq";s:10:"hairdryers";s:1:"0";s:22:"number_of_port_hatches";s:0:"";s:7:"smoking";s:0:"";s:11:"crew_smokes";s:3:"Inq";s:11:"children_ok";s:3:"Yes";s:17:"minimum_child_age";s:0:"";s:9:"generator";s:0:"";s:8:"inverter";s:0:"";s:8:"voltages";s:0:"";s:7:"hammock";s:0:"";s:10:"windscoops";s:0:"";}
Full
0
Twin 1,250hp Deutz 65 kW Northern Lights
1988
Heesen
USD
$
87500
87500
125000


Nick was born and raised in Chicago, Illinois. He grew up sailing and power boating with his father in Lake Michigan and spent many summers in South Florida. Nick and his father rebuilt a sunken catamaran during his high school years then sailed the Bahamas during holidays for many years. Nick moved to South Florida in 2009 permanently due to his love for the ocean. He graduated from Lynn University in 2012 with his Bachelors in Business Administration. During his time in school, he worked on yachts as a mate and then as a captain.

Nick has now been working on yachts for 10 years and has managed a successful Yacht Management company. He also has completed numerous yacht refits. Nick has a passion for project management and enjoys seeing the reaction of a happy client.

Education: Bachelor's in Business Management, STCW, Advanced firefighting, 200 Ton USGC / 500 Ton IGT



First Mate- Bryan Meltcher

Bryan was born in Illinois and raised in California. He relocated to Florida for school in 2005 and fell in love with the ocean. He has spent most of his time in South Florida around boats. Bryan jumped into the industry because of all the traveling he has done on his friend's boats and loved the idea of working on boats.

Before yachting Bryan worked in high-end hotels so it has been a nice transition from one to another. Bryan does not see himself doing anything else and feels he has found his place. Bryan has now worked in the yachting world for 7 years.

Education: Bachelor's in Hospitality and Sports Management, STCW 95' Powerboat level 2 inland/coastal planning, RYA Essential navigation and seamanship, Basic and Advanced firefighting.



Chef- Nelson Cartegena
Language Spoken: English, Spanish

Chef Nelson is Originally from Queens New York. Upon graduating from high school, Nelson enlisted in the US Army where he served 6 years of active duty service. After leaving the service, Nelson attended the University of Central Florida where he studied finance and completed his degree. Finding that he HATED every minute of studying finance Nelson decided to make a change and enroll in Culinary school to follow his passion for cooking. The journey has taken him to several interesting locations around the world. Nelson has been on motor yachts as a Temp. Chef for 4 years and after he spent a year as a full-time Chef in the Leeward and Windward islands. Nelson's hobbies are Fishing / Boating / Diving / Working out / Spending time with loved ones / and Traveling.



Chief Stew- Marissa Milan

Marissa was born in Oklahoma where she spent most of her life. Looking to change things up she moved to Seattle WA in 2014 after four dreary winters there desired a lot more sunshine. That's when she decided to move to Florida and join yachting. Marissa has been yachting for just over a year and a half and is absolutely loving it. In her free time, she enjoys spending time at the beach, biking, paddle boarding, hanging with friends, and the occasional binge-watching session. Marissa looks forward to providing an
exceptional experience and is sure to put a smile on your face.



Second Stew- Sierra Storm

Sierra, a genuine Florida girl, combines her love of service and the sea onboard M/Y Sea Axis. She has also worked as a corporate flight attendant traveling the world. Her passion is health and spends her free time exercising or creating nourishing delicious foods. A thoughtful person by nature, Sierra enjoys fulfilling the needs of everyone in her care.



Chief Engineer- Charles Jones - Engineer
Education/Certifications: STCW 95, AEC 1-2, Advanced Firefighting, Medical First Aid, HELM, Proficiency in Small Craft Rescue Boat, Vessel Personnel with Designated Security Duties
Languages Spoken: English

Charles Jones grew up in the small Jamaican city of Mandeville along with his two older sisters. As a child, his hobbies included martial arts, dancing and playing the violin. He was introduced to yachting at the age of 20; the details that go into the construction and maintenance of a vessel are what inspired him to pursue a career in the industry. He began as a marine vessel repair specialist and devoted 14 years to learning the intricacies of repair, design, custom modifications, and refits on yachts and other vessels. Charlie is excited to join SEA AXIS as Engineer while continuing to expand his knowledge of the yachting industry and strive for excellence in all aspects of his career. When not working on charter yachts, Charlie enjoys rebuilding and riding motorcycles, free diving, jet skiing and other water sports, and exploring new places.




Deck Hand- Cameron King

My name is Cam, born and raised in Indiana and moved to South Florida when I was 19 to pursue yachting. I enjoy working out, hanging out with family and friends, and listening to music during my downtime. I strive to be the best version of myself every day and to help as many people as I can. I have been yachting for 6 years and have a great passion for it and plan to become a yacht captain in the near future. ";s:5:"photo";s:0:"";s:4:"size";s:1:"7";s:12:"captain_name";s:13:"Nick Veselica";s:14:"captain_nation";s:8:"American";s:12:"captain_born";s:1:"0";s:15:"captain_license";s:0:"";s:18:"captain_yr_sailing";s:1:"0";s:21:"captain_yr_chartering";s:1:"0";s:17:"captain_languages";s:7:"English";s:9:"crew_name";s:0:"";s:16:"crew_nationality";s:0:"";s:12:"crew_license";s:0:"";s:15:"crew_yr_sailing";s:1:"0";s:18:"crew_yr_chartering";s:1:"0";s:7:"crewimg";a:2:{i:1;a:2:{s:3:"url";s:72:"https://www.centralyachtagent.com/yachtadmin/yachtlg/yacht6422/6422crew1";s:4:"desc";s:7:"Captain";}i:2;a:2:{s:3:"url";s:72:"https://www.centralyachtagent.com/yachtadmin/yachtlg/yacht6422/6422crew2";s:4:"desc";s:16:"Chief Stewardess";}}}
a:16:{s:4:"info";s:5442:"Captain- Nick Veselica
https://www.centralyachtagent.com/yachtadmin/yachtlg/yacht6422/6422brochure1.jpg
Profile
a:18:{i:2;a:2:{s:3:"url";s:80:"https://www.centralyachtagent.com/yachtadmin/yachtlg/yacht6422/6422brochure2.jpg";s:4:"desc";s:22:"Main Salon Looking Aft";}i:3;a:2:{s:3:"url";s:80:"https://www.centralyachtagent.com/yachtadmin/yachtlg/yacht6422/6422brochure3.jpg";s:4:"desc";s:13:"Formal Dining";}i:4;a:2:{s:3:"url";s:80:"https://www.centralyachtagent.com/yachtadmin/yachtlg/yacht6422/6422brochure4.jpg";s:4:"desc";s:14:"Main Salon Bar";}i:5;a:2:{s:3:"url";s:80:"https://www.centralyachtagent.com/yachtadmin/yachtlg/yacht6422/6422brochure5.jpg";s:4:"desc";s:8:"Aft Deck";}i:6;a:2:{s:3:"url";s:80:"https://www.centralyachtagent.com/yachtadmin/yachtlg/yacht6422/6422brochure6.jpg";s:4:"desc";s:29:"On Deck Master King Stateroom";}i:7;a:2:{s:3:"url";s:80:"https://www.centralyachtagent.com/yachtadmin/yachtlg/yacht6422/6422brochure7.jpg";s:4:"desc";s:72:"Master En-Suite w/ His & Hers Sinks, Stand Up Shower and Soaking Tub";}i:8;a:2:{s:3:"url";s:80:"https://www.centralyachtagent.com/yachtadmin/yachtlg/yacht6422/6422brochure8.jpg";s:4:"desc";s:18:"VIP King Stateroom";}i:9;a:2:{s:3:"url";s:80:"https://www.centralyachtagent.com/yachtadmin/yachtlg/yacht6422/6422brochure9.jpg";s:4:"desc";s:23:"King Stateroom Mid Ship";}i:10;a:2:{s:3:"url";s:81:"https://www.centralyachtagent.com/yachtadmin/yachtlg/yacht6422/6422brochure10.jpg";s:4:"desc";s:30:"Twin Stateroom #1 with Pullman";}i:11;a:2:{s:3:"url";s:81:"https://www.centralyachtagent.com/yachtadmin/yachtlg/yacht6422/6422brochure11.jpg";s:4:"desc";s:55:"Aft Twin Stateroom #2 with Pullman (Separate Staircase)";}i:12;a:2:{s:3:"url";s:81:"https://www.centralyachtagent.com/yachtadmin/yachtlg/yacht6422/6422brochure12.jpg";s:4:"desc";s:43:"Sky Lounge Looking Forward (Retractable TV)";}i:13;a:2:{s:3:"url";s:81:"https://www.centralyachtagent.com/yachtadmin/yachtlg/yacht6422/6422brochure13.jpg";s:4:"desc";s:11:"Bridge Deck";}i:14;a:2:{s:3:"url";s:81:"https://www.centralyachtagent.com/yachtadmin/yachtlg/yacht6422/6422brochure14.jpg";s:4:"desc";s:34:"Bridge Deck Lounging with Fire Pit";}i:15;a:2:{s:3:"url";s:81:"https://www.centralyachtagent.com/yachtadmin/yachtlg/yacht6422/6422brochure15.jpg";s:4:"desc";s:29:"Sun Deck with Jacuzzi and Bar";}i:16;a:2:{s:3:"url";s:81:"https://www.centralyachtagent.com/yachtadmin/yachtlg/yacht6422/6422brochure16.jpg";s:4:"desc";s:32:"Blue Agate Stone Bar on Sun Deck";}i:17;a:2:{s:3:"url";s:81:"https://www.centralyachtagent.com/yachtadmin/yachtlg/yacht6422/6422brochure17.jpg";s:4:"desc";s:22:"Extended Swim Platform";}i:18;a:2:{s:3:"url";s:81:"https://www.centralyachtagent.com/yachtadmin/yachtlg/yacht6422/6422brochure18.jpg";s:4:"desc";s:44:"2 GTX 300 Limited Sea Doos with Sound System";}i:19;a:2:{s:3:"url";s:81:"https://www.centralyachtagent.com/yachtadmin/yachtlg/yacht6422/6422brochure19.jpg";s:4:"desc";s:10:"2 Sea Bobs";}}
http://www.cyabrochure.com/ebn/2395/pdhaX/6422/1
http://www.cyabrochure.com/ebn/2395/pdhaX/6422/3
a:24:{s:4:"tube";s:3:"Yes";s:6:"guests";s:2:"12";s:8:"maxspeed";s:8:"17 knots";s:11:"pref_pickup";N;s:12:"other_pickup";N;s:5:"draft";s:4:"8' 1";s:14:"cruising_speed";s:8:"12 knots";s:7:"helipad";s:2:"No";s:2:"ac";s:4:"Full";s:8:"ac_night";s:2:"No";s:5:"built";s:4:"1988";s:10:"turnaround";s:0:"";s:6:"cabins";s:1:"5";s:4:"king";s:1:"3";s:5:"queen";s:1:"0";s:6:"double";s:1:"0";s:6:"single";s:1:"0";s:4:"twin";s:1:"2";s:7:"pullman";s:1:"2";s:7:"showers";s:1:"0";s:6:"basins";s:1:"0";s:5:"heads";s:1:"0";s:14:"electric_heads";s:1:"0";s:7:"jacuzzi";s:3:"Yes";}
a:7:{s:4:"flag";s:7:"Jamaica";s:8:"homeport";s:10:"Delray, FL";s:13:"resort_course";s:0:"";s:12:"yacht_permit";s:1:"0";s:13:"yacht_license";s:1:"0";s:9:"yacht_mca";s:1:"0";s:15:"yacht_insurance";s:0:"";}
a:22:{s:11:"dinghy_size";s:10:"28' Axopar";s:12:"kayaks_1_pax";s:2:"No";s:12:"kayaks_2_pax";s:2:"No";s:9:"dinghy_hp";s:15:"900 hp (671 kw)";s:13:"floating_mats";s:3:"Yes";s:10:"dinghy_pax";s:0:"";s:13:"swim_platform";s:3:"Yes";s:16:"water_skis_adult";s:1:"2";s:15:"boarding_ladder";s:0:"";s:15:"water_skis_kids";s:1:"0";s:14:"sailing_dinghy";s:0:"";s:8:"jet_skis";s:1:"2";s:11:"beach_games";s:1:"0";s:12:"wave_runners";s:2:"No";s:9:"kneeboard";s:3:"Yes";s:10:"windsurfer";s:1:"0";s:12:"snorkel_gear";s:1:"4";s:17:"underwater_camera";s:1:"0";s:7:"scurfer";s:2:"No";s:16:"underwater_video";s:1:"0";s:10:"wake_board";s:1:"2";s:11:"paddleboard";s:1:"0";}
3
0
0
0
2
2
2019
0
0
Greece
70
12 knots
17 knots

Dive Door and ladder
Air-conditioned Cabin with two twin bed microwave and TV
Airconditioned cockpit with ample seating
Removeable sunroof
Aft Sun Canopy
Fully Equipped for fishing
Dive Tank Holders
JL Audio System
2 GTX 300 Limited Sea Doos with sound system (These are the highest end Sea Doos you can buy)
17' Inflatable Nautica RIB Tender
2 Sea Bobs
Snorkel Gear/ Full Mask Optional with Waki Talki Communication x4
Inflatable Hot Dog
Inflatable 8 person Fiesta Party Raft
Inflatable Teak Docking system with two loungers
On Deck Cinema
Knee Board
Water Skis x 2
Wake Board x 2 (Liquid Force)
On Deck Rope Swing
Inflatable Big Slice Tube
Promenade deck Fire Pit
Board Games";s:19:"yachtOtherEntertain";s:0:"";s:16:"yachtCommunicate";s:571:"State of the Art A/V and Crestron system throughout the decks with multi-zone touch pads allowing for full control of music throughout the vessel. Sea Axis has a large music and movie library for all genres. The promenade outdoor seating and "Drive-In" style movie experience is one of a kind; with top of the line reverse, short-shot projection onto a 130" screen for some of the best outdoor movie viewing. The Lido deck bar has been completely refitted with 4 built in subwoofers and 6 overhead and side speakers giving top of the line sound quality.";s:15:"yachtSummerArea";s:7:"Bahamas";s:15:"yachtWinterArea";s:7:"Bahamas";s:12:"yachtShowers";s:1:"0";s:15:"yachtWashBasins";s:1:"0";s:10:"yachtHeads";s:1:"0";s:18:"yachtElectricHeads";s:1:"0";s:14:"yachtTpInHeads";s:0:"";s:15:"yachtSampleMenu";s:0:"";s:13:"yachtMenu1Pic";s:0:"";s:13:"yachtMenu2Pic";s:0:"";s:13:"yachtMenu3Pic";s:0:"";s:13:"yachtMenu4Pic";s:0:"";s:13:"yachtMenu5Pic";s:0:"";s:13:"yachtMenu6Pic";s:0:"";s:13:"yachtMenu7Pic";s:0:"";s:13:"yachtMenu8Pic";s:0:"";s:13:"yachtMenu9Pic";s:0:"";s:14:"yachtMenu10Pic";s:0:"";s:9:"yachtCrew";s:1:"7";s:14:"yachtCrewSmoke";s:3:"Inq";s:13:"yachtCrewPets";s:2:"No";s:16:"yachtCrewPetType";s:0:"";s:16:"yachtCaptainName";s:13:"Nick Veselica";s:18:"yachtCaptainNation";s:8:"American";s:16:"yachtCaptainBorn";s:1:"0";s:15:"yachtCaptainLic";s:0:"";s:18:"yachtCaptainYrSail";s:1:"0";s:19:"yachtCaptainYrChart";s:1:"0";s:16:"yachtCaptainLang";s:7:"English";s:13:"yachtCrewName";s:0:"";s:14:"yachtCrewTitle";s:0:"";s:15:"yachtCrewNation";s:0:"";s:15:"yachtCrewYrBorn";s:1:"0";s:12:"yachtCrewLic";s:0:"";s:15:"yachtCrewYrSail";s:1:"0";s:16:"yachtCrewYrChart";s:1:"0";s:13:"yachtCrewLang";s:0:"";s:16:"yachtCrewProfile";s:5442:"Captain- Nick Veselica

Nick was born and raised in Chicago, Illinois. He grew up sailing and power boating with his father in Lake Michigan and spent many summers in South Florida. Nick and his father rebuilt a sunken catamaran during his high school years then sailed the Bahamas during holidays for many years. Nick moved to South Florida in 2009 permanently due to his love for the ocean. He graduated from Lynn University in 2012 with his Bachelors in Business Administration. During his time in school, he worked on yachts as a mate and then as a captain.

Nick has now been working on yachts for 10 years and has managed a successful Yacht Management company. He also has completed numerous yacht refits. Nick has a passion for project management and enjoys seeing the reaction of a happy client.

Education: Bachelor's in Business Management, STCW, Advanced firefighting, 200 Ton USGC / 500 Ton IGT



First Mate- Bryan Meltcher

Bryan was born in Illinois and raised in California. He relocated to Florida for school in 2005 and fell in love with the ocean. He has spent most of his time in South Florida around boats. Bryan jumped into the industry because of all the traveling he has done on his friend's boats and loved the idea of working on boats.

Before yachting Bryan worked in high-end hotels so it has been a nice transition from one to another. Bryan does not see himself doing anything else and feels he has found his place. Bryan has now worked in the yachting world for 7 years.

Education: Bachelor's in Hospitality and Sports Management, STCW 95' Powerboat level 2 inland/coastal planning, RYA Essential navigation and seamanship, Basic and Advanced firefighting.



Chef- Nelson Cartegena
Language Spoken: English, Spanish

Chef Nelson is Originally from Queens New York. Upon graduating from high school, Nelson enlisted in the US Army where he served 6 years of active duty service. After leaving the service, Nelson attended the University of Central Florida where he studied finance and completed his degree. Finding that he HATED every minute of studying finance Nelson decided to make a change and enroll in Culinary school to follow his passion for cooking. The journey has taken him to several interesting locations around the world. Nelson has been on motor yachts as a Temp. Chef for 4 years and after he spent a year as a full-time Chef in the Leeward and Windward islands. Nelson's hobbies are Fishing / Boating / Diving / Working out / Spending time with loved ones / and Traveling.



Chief Stew- Marissa Milan

Marissa was born in Oklahoma where she spent most of her life. Looking to change things up she moved to Seattle WA in 2014 after four dreary winters there desired a lot more sunshine. That's when she decided to move to Florida and join yachting. Marissa has been yachting for just over a year and a half and is absolutely loving it. In her free time, she enjoys spending time at the beach, biking, paddle boarding, hanging with friends, and the occasional binge-watching session. Marissa looks forward to providing an
exceptional experience and is sure to put a smile on your face.



Second Stew- Sierra Storm

Sierra, a genuine Florida girl, combines her love of service and the sea onboard M/Y Sea Axis. She has also worked as a corporate flight attendant traveling the world. Her passion is health and spends her free time exercising or creating nourishing delicious foods. A thoughtful person by nature, Sierra enjoys fulfilling the needs of everyone in her care.



Chief Engineer- Charles Jones - Engineer
Education/Certifications: STCW 95, AEC 1-2, Advanced Firefighting, Medical First Aid, HELM, Proficiency in Small Craft Rescue Boat, Vessel Personnel with Designated Security Duties
Languages Spoken: English

Charles Jones grew up in the small Jamaican city of Mandeville along with his two older sisters. As a child, his hobbies included martial arts, dancing and playing the violin. He was introduced to yachting at the age of 20; the details that go into the construction and maintenance of a vessel are what inspired him to pursue a career in the industry. He began as a marine vessel repair specialist and devoted 14 years to learning the intricacies of repair, design, custom modifications, and refits on yachts and other vessels. Charlie is excited to join SEA AXIS as Engineer while continuing to expand his knowledge of the yachting industry and strive for excellence in all aspects of his career. When not working on charter yachts, Charlie enjoys rebuilding and riding motorcycles, free diving, jet skiing and other water sports, and exploring new places.




Deck Hand- Cameron King

My name is Cam, born and raised in Indiana and moved to South Florida when I was 19 to pursue yachting. I enjoy working out, hanging out with family and friends, and listening to music during my downtime. I strive to be the best version of myself every day and to help as many people as I can. I have been yachting for 6 years and have a great passion for it and plan to become a yacht captain in the near future. ";s:14:"yachtCrewPhoto";s:0:"";s:13:"yachtCrew1Pic";s:72:"https://www.centralyachtagent.com/yachtadmin/yachtlg/yacht6422/6422crew1";s:13:"yachtCrew2Pic";s:72:"https://www.centralyachtagent.com/yachtadmin/yachtlg/yacht6422/6422crew2";s:13:"yachtCrew3Pic";s:0:"";s:13:"yachtCrew4Pic";s:0:"";s:13:"yachtCrew5Pic";s:0:"";s:13:"yachtCrew6Pic";s:0:"";s:13:"yachtCrew7Pic";s:0:"";s:13:"yachtCrew8Pic";s:0:"";s:13:"yachtCrew9Pic";s:0:"";s:14:"yachtCrew10Pic";s:0:"";s:14:"yachtCrew1Name";s:13:"Nick Veselica";s:14:"yachtCrew2Name";s:15:"Marissa Mollman";s:14:"yachtCrew3Name";s:0:"";s:14:"yachtCrew4Name";s:0:"";s:14:"yachtCrew5Name";s:0:"";s:14:"yachtCrew6Name";s:0:"";s:14:"yachtCrew7Name";s:0:"";s:14:"yachtCrew8Name";s:0:"";s:14:"yachtCrew9Name";s:0:"";s:15:"yachtCrew10Name";s:0:"";s:15:"yachtCrew1Title";s:7:"Captain";s:15:"yachtCrew2Title";s:16:"Chief Stewardess";s:15:"yachtCrew3Title";s:0:"";s:15:"yachtCrew4Title";s:0:"";s:15:"yachtCrew5Title";s:0:"";s:15:"yachtCrew6Title";s:0:"";s:15:"yachtCrew7Title";s:0:"";s:15:"yachtCrew8Title";s:0:"";s:15:"yachtCrew9Title";s:0:"";s:16:"yachtCrew10Title";s:0:"";s:9:"yachtFlag";s:7:"Jamaica";s:13:"yachtHomePort";s:10:"Delray, FL";s:14:"yachtWBasePort";s:10:"Delray, FL";s:8:"yachtRig";s:0:"";s:14:"yachtGrossTons";s:0:"";s:12:"yachtAcNight";s:2:"No";s:16:"yachtAcSurCharge";s:0:"";s:9:"yachtTubs";s:1:"0";s:20:"yachtLocationDetails";s:0:"";s:10:"yachtTerms";s:5:"+ ALL";s:13:"yachtCaptOnly";s:0:"";s:15:"yachtSpecialCon";s:0:"";s:14:"yachtContracts";s:0:"";s:21:"yachtConsumptionUnits";s:10:"US Gall/Hr";s:10:"yachtRange";s:6:"3000nm";s:11:"yachtPermit";s:1:"0";s:12:"yachtLicense";s:1:"0";s:8:"yachtMca";s:1:"0";s:16:"yachtDeepSeaFish";s:0:"";s:10:"yachtSatTv";s:1:"0";s:9:"yachtIpod";s:0:"";s:10:"yachtVideo";s:0:"";s:17:"yachtSailInstruct";s:0:"";s:13:"yachtInternet";s:0:"";s:16:"yachtCaptainOnly";s:0:"";s:16:"yachtBrokerNotes";s:0:"";s:15:"yachtInsCompany";s:0:"";s:11:"yachtPolicy";s:0:"";s:14:"yachtLiability";s:0:"";s:18:"yachtEffectiveDate";s:0:"";s:17:"yachtContractName";s:0:"";s:18:"yachtCoverageAreas";s:0:"";s:12:"yachtInsFlag";s:0:"";s:16:"yachtInsHomeport";s:0:"";s:11:"yachtRegNum";s:0:"";s:14:"yachtConPhone1";s:0:"";s:14:"yachtConPhone2";s:0:"";s:14:"yachtConPhone3";s:0:"";s:11:"yachtConFax";s:0:"";s:17:"yachtWaveConEmail";s:0:"";s:13:"yachtConOther";s:0:"";s:12:"yachtManager";s:14:"Worldwide Boat";s:16:"yachtManagerName";s:10:"Rod Lindor";s:17:"yachtManagerPhone";s:12:"305-393-8483";s:16:"yachtManagerToll";s:0:"";s:17:"yachtManagerEmail";s:28:"[email protected]";}
O:8:"stdClass":290:{s:7:"yachtId";s:4:"6422";s:9:"yachtName";s:8:"SEA AXIS";s:17:"yachtPreviousName";s:4:"BRIO";s:9:"yachtLogo";s:0:"";s:9:"yachtType";s:5:"Power";s:11:"yachtLength";s:4:"125'";s:13:"yachtPowerCat";s:1:"N";s:8:"sizeFeet";s:9:"125.00 Ft";s:9:"sizeMeter";s:7:"38.00 m";s:9:"yachtBeam";s:3:"25'";s:10:"yachtDraft";s:4:"8' 1";s:10:"yachtUnits";s:4:"Feet";s:8:"yachtPax";s:2:"12";s:11:"yachtCabins";s:1:"5";s:9:"yachtKing";s:1:"3";s:10:"yachtQueen";s:1:"0";s:17:"yachtSingleCabins";s:1:"0";s:17:"yachtDoubleCabins";s:1:"0";s:15:"yachtTwinCabins";s:1:"2";s:18:"yachtPullmanCabins";s:1:"2";s:10:"yachtRefit";s:4:"2019";s:12:"yachtHelipad";s:2:"No";s:12:"yachtJacuzzi";s:3:"Yes";s:8:"yachtGym";s:2:"No";s:16:"yachtStabilizers";s:8:"Underway";s:14:"yachtElevators";s:2:"No";s:21:"yachtWheelChairAccess";s:2:"No";s:7:"yachtAc";s:4:"Full";s:15:"yachtPrefPickUp";s:0:"";s:16:"yachtOtherPickUp";s:0:"";s:15:"yachtTurnAround";s:0:"";s:14:"yachtYearBuilt";s:4:"1988";s:12:"yachtBuilder";s:6:"Heesen";s:14:"yachtBrokerWeb";s:32:"http://www.viewyacht.com/seaaxis";s:12:"yachtUserWeb";s:48:"http://www.cyabrochure.com/ebn/2395/pdhaX/6422/1";s:13:"yachtVideoUrl";s:0:"";s:12:"yachtV360Url";N;s:16:"yachtCruiseSpeed";s:8:"12 knots";s:13:"yachtMaxSpeed";s:8:"17 knots";s:19:"yachtAccommodations";s:0:"";s:14:"yachtHighPrice";s:12:"$125,000";s:13:"yachtLowPrice";s:11:"$87,500";s:21:"yachtHighNumericPrice";s:6:"125000";s:20:"yachtLowNumericPrice";s:5:"87500";s:19:"yachtCurrencySymbol";s:5:"$";s:13:"yachtCurrency";s:3:"USD";s:17:"yachtPriceDetails";s:0:"";s:14:"yachtTermsType";s:0:"";s:17:"yachtTermsTypeNum";s:1:"0";s:11:"yachtVcrDvd";s:3:"Yes";s:16:"yachtSalonStereo";s:1:"0";s:11:"yachtNumDvd";s:0:"";s:11:"yachtNumCds";s:0:"";s:15:"yachtBoardGames";s:3:"Yes";s:13:"yachtNumBooks";s:0:"";s:14:"yachtCamCorder";s:1:"0";s:14:"yachtNumDineIn";s:0:"";s:14:"yachtSunAwning";s:1:"0";s:12:"yachtHammock";s:0:"";s:15:"yachtWindScoops";s:0:"";s:15:"yachtDeckShower";s:1:"0";s:11:"yachtBimini";s:1:"0";s:17:"yachtSpecialDiets";s:3:"Inq";s:11:"yachtKosher";s:3:"Inq";s:8:"yachtBBQ";s:1:"0";s:16:"yachtGayCharters";s:3:"Inq";s:17:"yachtNudeCharters";s:3:"Inq";s:14:"yachtHairDryer";s:1:"0";s:13:"yachtNumHatch";s:0:"";s:15:"yachtGuestSmoke";s:0:"";s:13:"yachtGuestPet";s:1:"0";s:20:"yachtChildrenAllowed";s:3:"Yes";s:16:"yachtMinChildAge";s:0:"";s:14:"yachtGenerator";s:0:"";s:12:"yachtEngines";s:42:"Twin 1,250hp Deutz 65 kW Northern Lights";s:9:"yachtFuel";s:2:"70";s:13:"yachtInverter";s:0:"";s:13:"yachtVoltages";s:0:"";s:15:"yachtWaterMaker";s:0:"";s:18:"yachtWaterCapacity";s:0:"";s:13:"yachtIceMaker";s:1:"0";s:11:"yachtDinghy";s:10:"28' Axopar";s:13:"yachtDinghyHp";s:15:"900 hp (671 kw)";s:14:"yachtDinghyPax";s:0:"";s:15:"yachtAdultWSkis";s:1:"2";s:13:"yachtKidsSkis";s:1:"0";s:12:"yachtJetSkis";s:1:"2";s:12:"yachtWaveRun";s:2:"No";s:14:"yachtKneeBoard";s:3:"Yes";s:18:"yachtStandUpPaddle";s:1:"0";s:13:"yachtWindSurf";s:1:"0";s:16:"yachtGearSnorkel";s:1:"4";s:9:"yachtTube";s:3:"Yes";s:12:"yachtScurfer";s:2:"No";s:14:"yachtWakeBoard";s:1:"2";s:14:"yacht1ManKayak";s:2:"No";s:14:"yacht2ManKayak";s:2:"No";s:11:"yachtSeaBob";s:3:"Yes";s:15:"yachtSeaScooter";s:2:"No";s:17:"yachtKiteBoarding";s:0:"";s:24:"yachtKiteBoardingDetails";s:0:"";s:15:"yachtFishPermit";s:0:"";s:14:"yachtFloatMats";s:3:"Yes";s:17:"yachtSwimPlatform";s:3:"Yes";s:19:"yachtBoardingLadder";s:0:"";s:18:"yachtDinghySailing";s:0:"";s:15:"yachtGamesBeach";s:1:"0";s:16:"yachtFishingGear";s:3:"Yes";s:17:"yachtFishGearType";s:0:"";s:16:"yachtNumFishRods";s:0:"";s:18:"yachtUnderWaterCam";s:1:"0";s:20:"yachtUnderWaterVideo";s:1:"0";s:19:"yachtGreenMakeWater";s:0:"";s:21:"yachtGreenReuseBottle";s:0:"";s:15:"yachtGreenOther";s:0:"";s:17:"yachtScubaOnboard";s:35:"Yacht offers Rendezvous Diving only";s:17:"yachtResortCourse";s:0:"";s:15:"yachtFullCourse";s:0:"";s:16:"yachtLicenseInfo";s:1:"-";s:15:"yachtCompressor";s:11:"Not Onboard";s:17:"yachtNumDiveTanks";s:1:"0";s:11:"yachtNumBCS";s:1:"0";s:12:"yachtNumRegs";s:1:"0";s:16:"yachtNumWetSuits";s:1:"0";s:15:"yachtNumWeights";s:1:"0";s:14:"yachtNumDivers";s:1:"0";s:13:"yachtNumDives";s:0:"";s:18:"yachtNumNightDives";s:1:"0";s:18:"yachtNumDiveLights";s:1:"0";s:13:"yachtDiveInfo";s:0:"";s:14:"yachtDiveCosts";s:0:"";s:9:"yachtPic1";s:80:"https://www.centralyachtagent.com/yachtadmin/yachtlg/yacht6422/6422brochure1.jpg";s:10:"yachtDesc1";s:7:"Profile";s:9:"yachtPic2";s:80:"https://www.centralyachtagent.com/yachtadmin/yachtlg/yacht6422/6422brochure2.jpg";s:10:"yachtDesc2";s:22:"Main Salon Looking Aft";s:9:"yachtPic3";s:80:"https://www.centralyachtagent.com/yachtadmin/yachtlg/yacht6422/6422brochure3.jpg";s:10:"yachtDesc3";s:13:"Formal Dining";s:9:"yachtPic4";s:80:"https://www.centralyachtagent.com/yachtadmin/yachtlg/yacht6422/6422brochure4.jpg";s:10:"yachtDesc4";s:14:"Main Salon Bar";s:9:"yachtPic5";s:80:"https://www.centralyachtagent.com/yachtadmin/yachtlg/yacht6422/6422brochure5.jpg";s:10:"yachtDesc5";s:8:"Aft Deck";s:9:"yachtPic6";s:80:"https://www.centralyachtagent.com/yachtadmin/yachtlg/yacht6422/6422brochure6.jpg";s:10:"yachtDesc6";s:29:"On Deck Master King Stateroom";s:9:"yachtPic7";s:80:"https://www.centralyachtagent.com/yachtadmin/yachtlg/yacht6422/6422brochure7.jpg";s:10:"yachtDesc7";s:72:"Master En-Suite w/ His & Hers Sinks, Stand Up Shower and Soaking Tub";s:9:"yachtPic8";s:80:"https://www.centralyachtagent.com/yachtadmin/yachtlg/yacht6422/6422brochure8.jpg";s:10:"yachtDesc8";s:18:"VIP King Stateroom";s:9:"yachtPic9";s:80:"https://www.centralyachtagent.com/yachtadmin/yachtlg/yacht6422/6422brochure9.jpg";s:10:"yachtDesc9";s:23:"King Stateroom Mid Ship";s:10:"yachtPic10";s:81:"https://www.centralyachtagent.com/yachtadmin/yachtlg/yacht6422/6422brochure10.jpg";s:11:"yachtDesc10";s:30:"Twin Stateroom #1 with Pullman";s:10:"yachtPic11";s:81:"https://www.centralyachtagent.com/yachtadmin/yachtlg/yacht6422/6422brochure11.jpg";s:11:"yachtDesc11";s:55:"Aft Twin Stateroom #2 with Pullman (Separate Staircase)";s:10:"yachtPic12";s:81:"https://www.centralyachtagent.com/yachtadmin/yachtlg/yacht6422/6422brochure12.jpg";s:11:"yachtDesc12";s:43:"Sky Lounge Looking Forward (Retractable TV)";s:10:"yachtPic13";s:81:"https://www.centralyachtagent.com/yachtadmin/yachtlg/yacht6422/6422brochure13.jpg";s:11:"yachtDesc13";s:11:"Bridge Deck";s:10:"yachtPic14";s:81:"https://www.centralyachtagent.com/yachtadmin/yachtlg/yacht6422/6422brochure14.jpg";s:11:"yachtDesc14";s:34:"Bridge Deck Lounging with Fire Pit";s:10:"yachtPic15";s:81:"https://www.centralyachtagent.com/yachtadmin/yachtlg/yacht6422/6422brochure15.jpg";s:11:"yachtDesc15";s:29:"Sun Deck with Jacuzzi and Bar";s:10:"yachtPic16";s:81:"https://www.centralyachtagent.com/yachtadmin/yachtlg/yacht6422/6422brochure16.jpg";s:11:"yachtDesc16";s:32:"Blue Agate Stone Bar on Sun Deck";s:10:"yachtPic17";s:81:"https://www.centralyachtagent.com/yachtadmin/yachtlg/yacht6422/6422brochure17.jpg";s:11:"yachtDesc17";s:22:"Extended Swim Platform";s:10:"yachtPic18";s:81:"https://www.centralyachtagent.com/yachtadmin/yachtlg/yacht6422/6422brochure18.jpg";s:11:"yachtDesc18";s:44:"2 GTX 300 Limited Sea Doos with Sound System";s:10:"yachtPic19";s:81:"https://www.centralyachtagent.com/yachtadmin/yachtlg/yacht6422/6422brochure19.jpg";s:11:"yachtDesc19";s:10:"2 Sea Bobs";s:11:"yachtLayout";s:0:"";s:18:"yachtFullEbrochure";s:48:"http://www.cyabrochure.com/ebn/2395/pdhaX/6422/3";s:14:"yachtFullRates";s:48:"http://www.cyabrochure.com/ebn/2395/pdhaX/6422/4";s:14:"yachtOtherToys";s:855:"28' Axopar
No
38.00 m
70
US Gall/Hr
3000nm
0
http://www.cyabrochure.com/ebn/2395/pdhaX/6422/4
Inq
a:3:{s:16:"green_initiative";s:0:"";s:16:"reusable_bottles";s:0:"";s:19:"other_green_efforts";s:0:"";}
a:15:{s:5:"tanks";s:1:"0";s:9:"wet_suits";s:1:"0";s:15:"number_of_dives";s:0:"";s:11:"night_dives";s:1:"0";s:9:"dive_info";s:0:"";s:13:"communication";s:571:"State of the Art A/V and Crestron system throughout the decks with multi-zone touch pads allowing for full control of music throughout the vessel. Sea Axis has a large music and movie library for all genres. The promenade outdoor seating and "Drive-In" style movie experience is one of a kind; with top of the line reverse, short-shot projection onto a 130" screen for some of the best outdoor movie viewing. The Lido deck bar has been completely refitted with 4 built in subwoofers and 6 overhead and side speakers giving top of the line sound quality.";s:11:"full_course";s:0:"";s:14:"air_compressor";s:11:"Not Onboard";s:3:"bcs";s:1:"0";s:11:"weight_sets";s:1:"0";s:16:"number_of_divers";s:1:"0";s:20:"registrations_number";s:1:"0";s:11:"dive_lights";s:1:"0";s:10:"dive_costs";s:0:"";s:14:"scuba_on_board";s:35:"Yacht offers Rendezvous Diving only";}
a:4:{s:12:"fishing_gear";s:3:"Yes";s:17:"fishing_gear_type";s:0:"";s:4:"rods";s:0:"";s:16:"deep_sea_fishing";s:0:"";}
Jamaica
American
1
1
2
Yacht offers Rendezvous Diving only
1638239456
9
a:7:{s:10:"11-30-2021";i:2;s:10:"12-02-2021";i:1;s:10:"12-04-2021";i:1;s:10:"01-09-2022";i:1;s:10:"01-11-2022";i:1;s:10:"01-12-2022";i:1;s:10:"01-22-2022";i:2;}
a:2:{s:7:"updated";i:1642867181;s:5:"links";a:0:{}}
Worldwide Boat
339603000
a:1:{i:0;a:9:{s:4:"link";s:67:"https://www.vesselfinder.com//vessels/SEA-AXIS-IMO-0-MMSI-339603000";s:4:"flag";s:7:"Jamaica";s:4:"name";s:8:"SEA AXIS";s:4:"year";s:1:"-";s:2:"gt";s:1:"-";s:3:"dwt";s:1:"-";s:6:"length";s:6:"38 / 8";s:4:"diff";i:0;s:4:"MMSI";s:9:"339603000";}}
1638532073