Vita Dolce Yacht Description
Vita Dolce yacht is a 104.00 ft long motor yacht monohull and spends the summer season in Mallorca. It was built by Custom Built in 1997. A refit was done in 2013/2018. The yacht layout features 5 cabins and accommodates 10 guests. The cabin arrangement is following: 1 king cabin, 2 queen cabins, 2 twin cabins.
The motor yacht features VITA DOLCE is a 32 meters Turkish Gulet custom built in 1997. She has since undergone a full refit in 2013 and in 2018 meaning she is in fantastic condition. She comfortably sleeps up to ten guests in five well-appointed cabins. VITA DOLCE has a tremendous inside and outside space living areas for families or groups of friends to relax and sunbath. She is also the perfect yacht for events in the French Riviera and receptions at quay. Her extreme comfort and her 4 crew will guarantee Guests to make the most of their time... in style! She was used in the French movie "Entre Amis" in 2015. engines and a generator.
Accommodation
Very spacious interior areas.
Saloon : The Light color saloon with 360° panoramic view is in two parts : one for dinner and one for lounge with Apple TV and a central music BOSE.
Master Cabin : The main cabin is equipped with a king size bed, a desk and a SONY TV LEGRAND.
The bathroom is very great with a shower, a bath and a separate toilet.
VIP Cabins :Two VIP double cabins on portside and starboard side with bathroom, shower and toilet; TV and air cond.
Two Guest twin berths cabins port and starboard side with bathroom, shower and toilet, TVand air cond.
Vita Dolce Yacht Details
€26,000 - €29,000
Weekly price low-high season
Vita Dolce yacht charter price

| # of charter days | Base Price | APA (deposit for provisioning, fuel, docking fees, etc) | Taxes: 21%%, exceptions available | Total | | Note |
| --- | --- | --- | --- | --- | --- | --- |
| 14 day charter | 52,000€ to 58,000€ | 10,400€ to 17,400€ | 10,920€ to 12,180€ | 73,320€ to 87,580€ | | Discounts outside the main season are common. |
| 7 day charter | 26,000€ to 29,000€ | 5,200€ to 8,700€ | 5,460€ to 6,090€ | 36,660€ to 43,790€ | | Standard charter rate, base for all calculations. |
| 3 day charter | 13,000€ to 14,500€ | 2,600€ to 4,350€ | 2,730€ to 3,045€ | 18,330€ to 21,895€ | | The usual formula is the 7 day charter rate divided by 6, times the number of days (3). Boat policy might differ. 26,000€ / 6 * 3 days = 13,000€ |

All prices are generated by a calculator and serve as a guide for new charterers. Any additional information of the Price Details section has priority over above. Availability is always subject to confirmation. Gratuity not included for it's discretionary character, usually 5%-25% of the Base Price.
Price Details
High season rate: €29,000
Price Terms
Plus Expenses
Vita Dolce Yacht Charter Locations
Summer Season
Winter Season
French Riviera
Amenities
Number Of Port Hatches:
yes
Smoking:
Smoking outside only permitted
Generator:
2x onan 17.5 kw
Features
BBQ: Yes
AC: Full
Generator: 2x onan 17.5 kw
Internet: Onboard WIFI
Cruising Speed: 8
Max Speed: 9
More Specifications
Yacht Insurance:
Shipowners Club
Diving Yacht offers Rendezvous Diving only
Air Compressor:
Not Onboard
Scuba On Board:
Yacht offers Rendezvous Diving only
Other Entertainment
2018 :
New Bed Linen - Egyptian cotton
New Bath Linen - Egyptian cotton
Ren Bath Line product
Interior Jo Malone ambiance
New tableware
New toys

Crew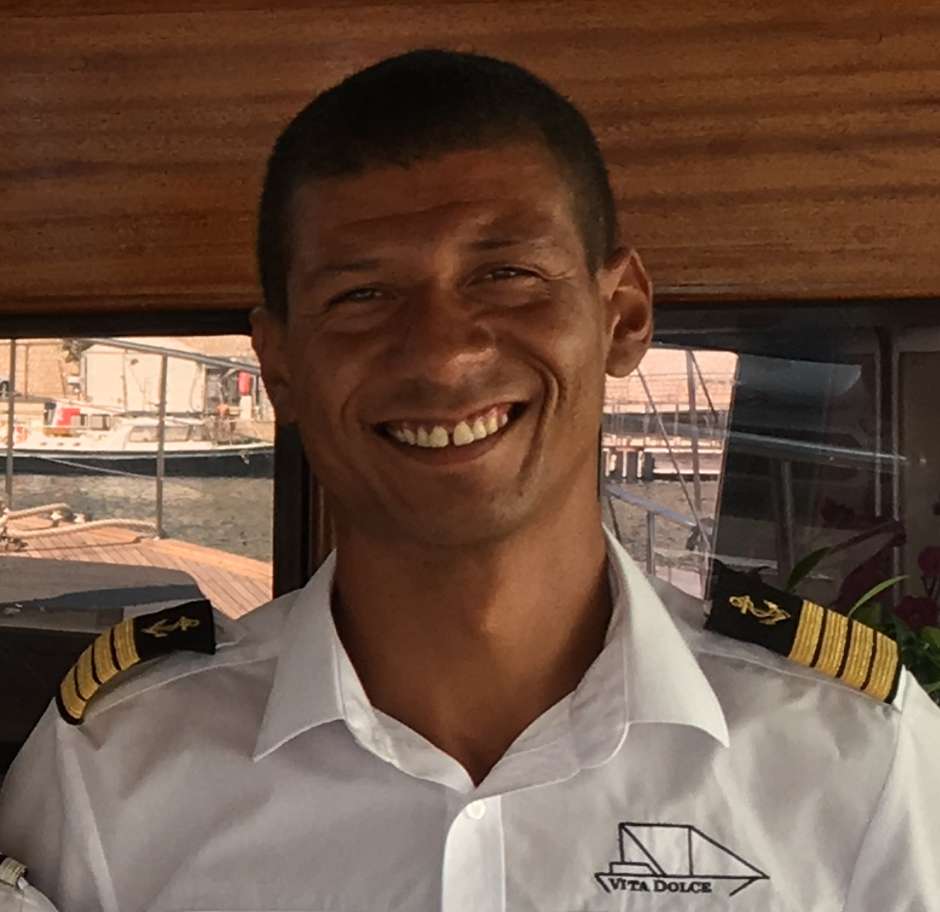 Captain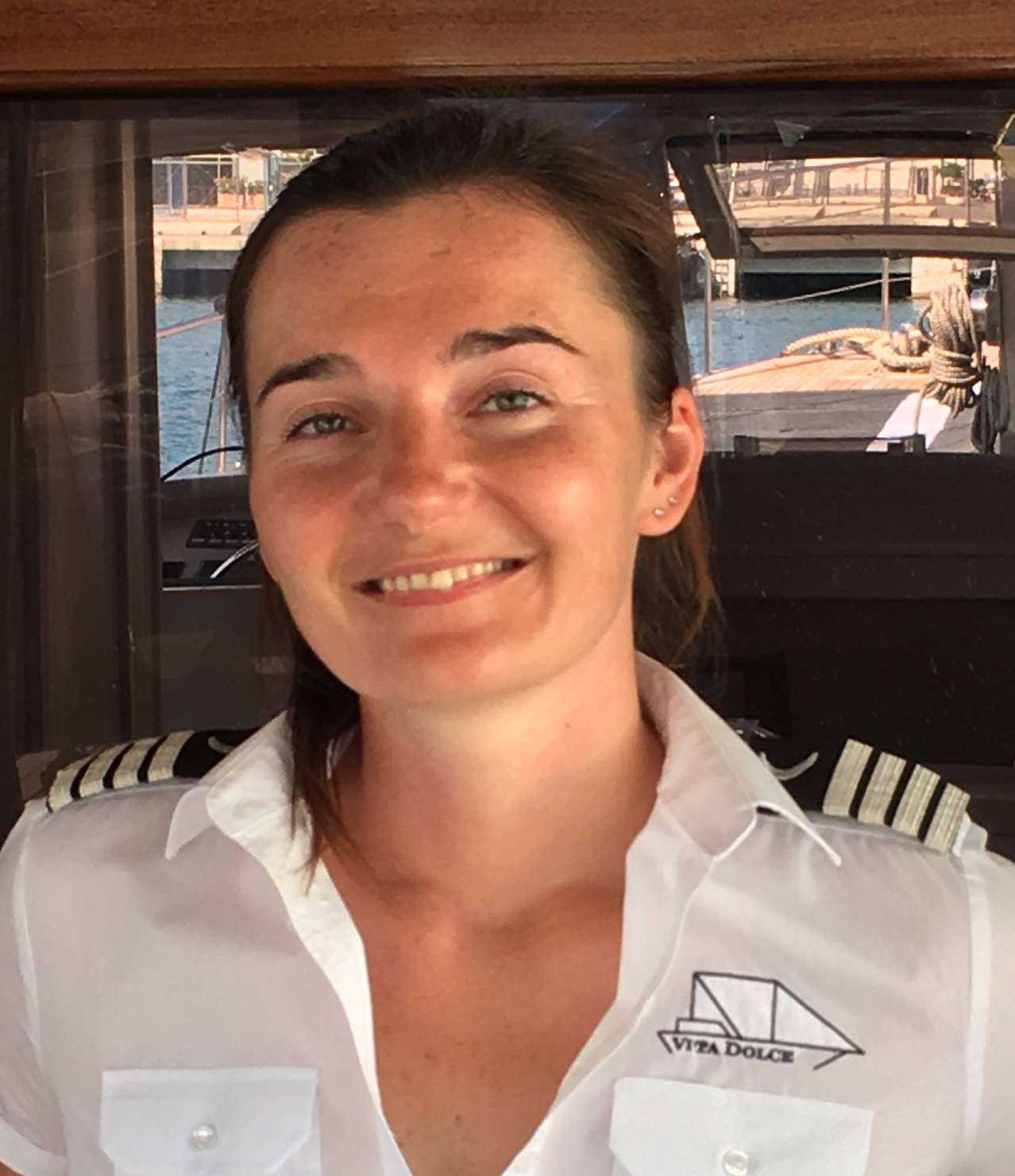 Stewardess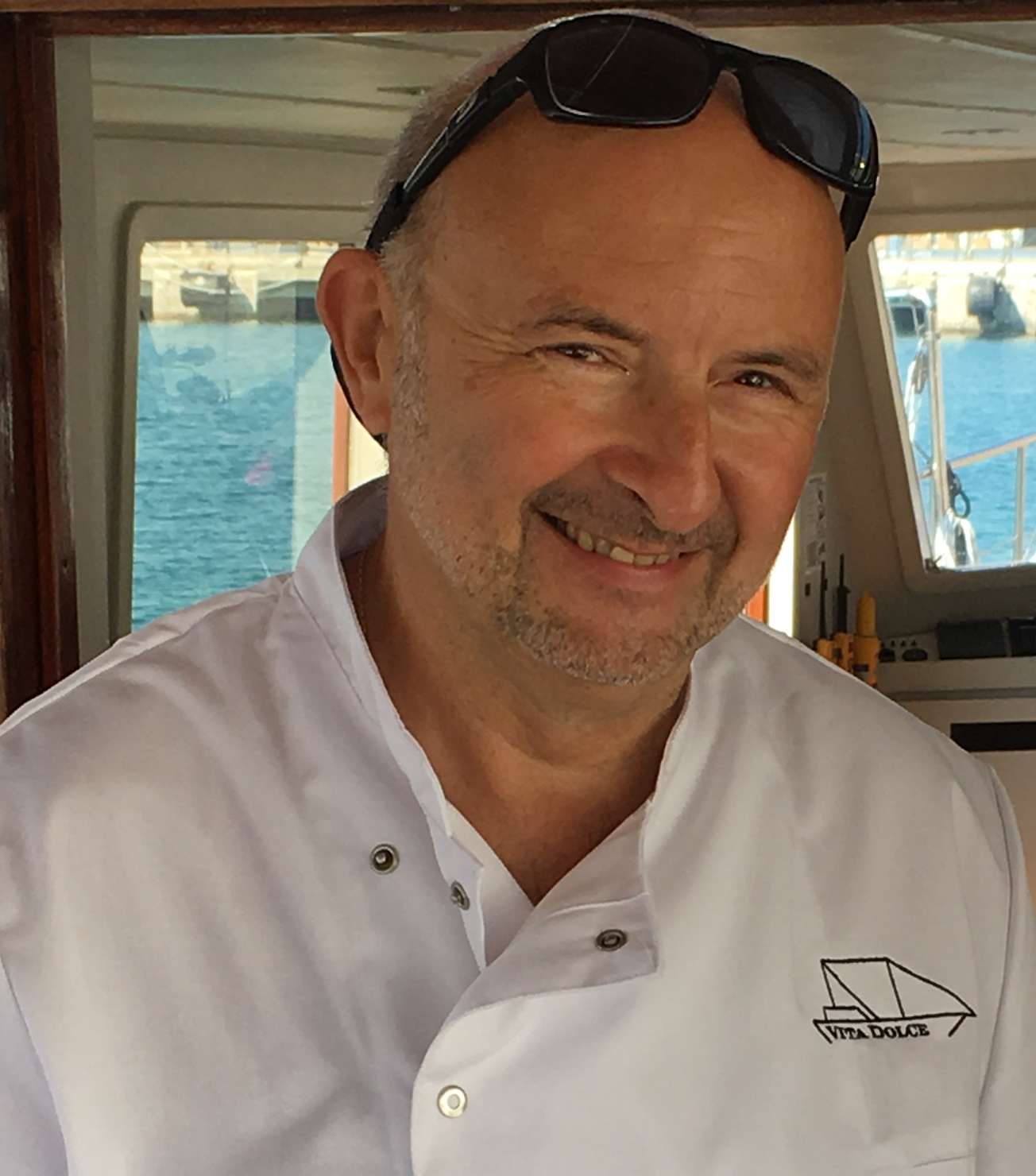 Chief Cook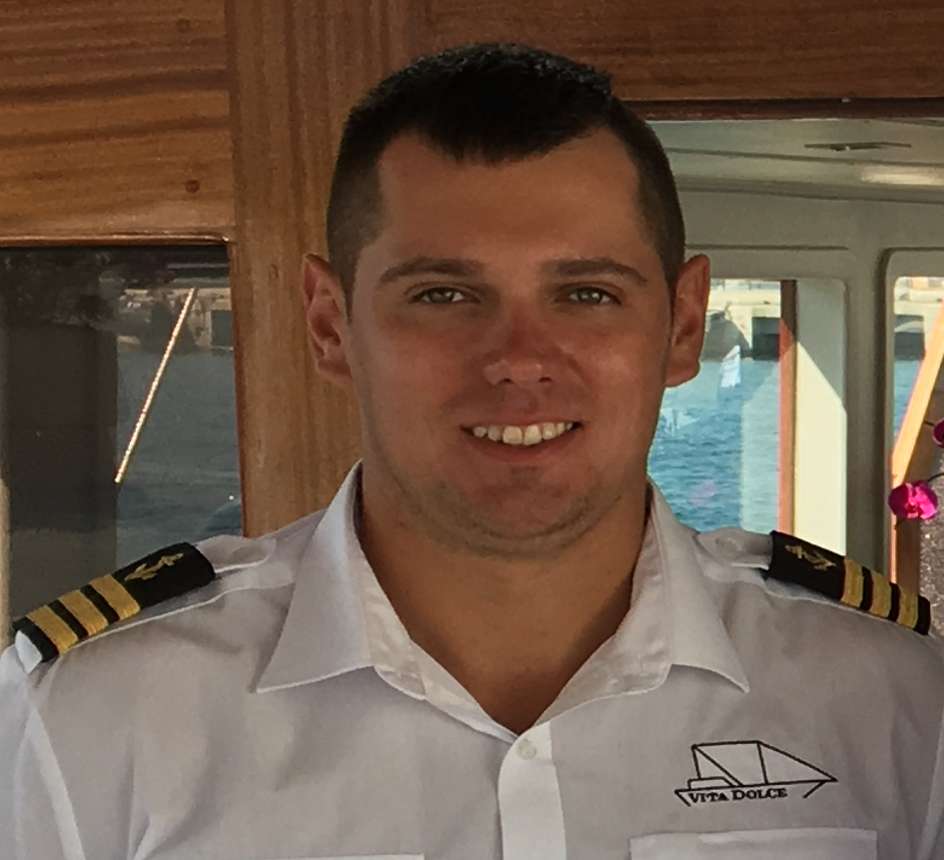 Deckhand
Captain Jeremy Dedeste
French
32 years old
Passionate about sailing and engins since a young age, he has over nine years of experience working on yachts and over 100,000 sea miles! Jeremy is a very professional and enthusiastic captain who is reliable, responsible and hard working, possessing excellent communication and interpersonal skills, he is very customer focused and will go the extra mile to make sure his guests have an unforgetable experience onboard. He has worked on both sailing, motor yachts such as SY New Beginnings, MY Noon Tease, MY Sky Light and MY Shake N Bake

Jeremy speaks French, fluent English and basic Spanish

Stewardess Alena Konysheva
Russian
32 years old
Alena has many years experience working in the hospitality industry, starting in a busy restaurant in Russia where she was promoted to manageress and then moving to yachting after travelling to the Caribbean. Alena is an outgoing, enthusiastic, motivated and reliable crew member with a sense of humor she works well under pressure and can easily adapt to different situations, She has previously worked on MY Bliss, MY Shake N Bake, MY Callista, MY Palm B and Blue Attraction

Alena speaks Russian, French, English and basic Spanish

Chef Jean Luc Gaufillier

French
With many years experience in various positions working in the hotel and restaurant industry worldwide, including some of the finest renowned establishments such as the Ritz in Paris, Le Moulin de Mougins and for Michelin starred chefs like Alain Llorca, Jean Luc brings a huge knowledge of hospitality entertaining and fine dining to Vita Dolce. He is also a trained sommelier and enjoys creating perfect harmony with food and wine. A keen sailor, owning his own sailing yacht Jean Luc is happiest combining his passion for food with his passion of the sea

Deck Hand Ansis Kucins

Latvian
An enthusiastic professional and very a hardworking individual who strives to achieve the best in all tasks, with more than 7 years' experience as a boats craftsman added to his previous positions on charter yachts with his love for sports and the water he is perfect to complete the team on Vita Dolce.
Reviews
French family living the Dolce Vita
20 ans de bateau avec des équipages différents mais c'est le top du top. Votre générosité est à toute épreuves. Mille merci pour votre accueille. Un capitaine très très professionnel. Un équipage toujours à l'écoute. Jean Luc un homme extraordinaire. Ali une mère pour nous. Ansis à le cœur sur la main. Que dire de plus : Je n'oublierai jamais ces vacances.
Hé oui Vita Dolce, un bateau qui mérite de continuer à naviguer car il est conviviale et majestueux.
Surtout ne changer rien.

Britsih & Australian guests
Thank you to a truly wonderful crew for a really great trip in our favorite part of the world.

Thank you beyond words – Heaven, Bliss…

Child words :

- Thank you for a lovely holiday, it has been so fun. Great crew, thank you uncle « sunny man ». Love – Honor.

- Thank you so much peps it has been so much fun.

- Thank you so much for a amazing holiday. You are all so amazing. I hope I come back. Thanks »

Wow what a voyage
Loved every minute of our stay on Vita Dolce – best crew ever totally spoiled us. Thank you. Love.
Australian guests - July 2018
American guests
Thank you so much to the whole Vita Dolce crew ! From watermelon pizza to waterskiing, we had the best time.
Love, Fabulous crew

Gallery
5821
http://www.centralyachtagent.com/snapins/json-ebrochure.php?idin=5821&uid=2395&user=2395
5
Power
N
https://www.centralyachtagent.com/yachtadmin/yachtlg/yacht5821/5821brochure88.jpg
10
W. Med -Riviera/Cors/Sard., W. Med - Spain/Balearics
W. Med -Riviera/Cors/Sard.
104.00
7.38
3.05
a:35:{s:12:"salon_stereo";s:3:"Yes";s:8:"salon_tv";s:3:"Yes";s:6:"sat_tv";s:3:"Yes";s:17:"multimedia_system";s:0:"";s:4:"nude";s:3:"Inq";s:5:"books";s:3:"yes";s:9:"crew_pets";s:3:"Yes";s:8:"pet_type";s:10:"On request";s:10:"guest_pets";s:1:"0";s:9:"camcorder";s:1:"0";s:14:"number_dine_in";s:3:"yes";s:11:"water_maker";s:3:"yes";s:14:"water_capacity";s:4:"1500";s:9:"ice_maker";s:3:"Yes";s:14:"number_of_dvds";s:3:"yes";s:13:"number_of_cds";s:0:"";s:11:"board_games";s:3:"Yes";s:10:"sun_awning";s:3:"Yes";s:6:"bimini";s:3:"Yes";s:13:"special_diets";s:3:"Yes";s:6:"kosher";s:3:"Inq";s:3:"bbq";s:3:"Yes";s:12:"gay_charters";s:3:"Inq";s:17:"yachtNudeCharters";s:3:"Inq";s:10:"hairdryers";s:1:"0";s:22:"number_of_port_hatches";s:3:"yes";s:7:"smoking";s:30:"Smoking outside only permitted";s:11:"crew_smokes";s:3:"Inq";s:11:"children_ok";s:3:"Yes";s:17:"minimum_child_age";s:0:"";s:9:"generator";s:15:"2x onan 17.5 kw";s:8:"inverter";s:0:"";s:8:"voltages";s:3:"220";s:7:"hammock";s:0:"";s:10:"windscoops";s:0:"";}
Full
Yes
Onboard WIFI
2x onan 17.5 kw
VITA DOLCE is a 32 meters Turkish Gulet custom built in 1997. She has since undergone a full refit in 2013 and in 2018 meaning she is in fantastic condition. She comfortably sleeps up to ten guests in five well-appointed cabins. VITA DOLCE has a tremendous inside and outside space living areas for families or groups of friends to relax and sunbath. She is also the perfect yacht for events in the French Riviera and receptions at quay. Her extreme comfort and her 4 crew will guarantee Guests to make the most of their time... in style! She was used in the French movie "Entre Amis" in 2015.
1997
Custom Built

Saloon : The Light color saloon with 360° panoramic view is in two parts : one for dinner and one for lounge with Apple TV and a central music BOSE.
Master Cabin : The main cabin is equipped with a king size bed, a desk and a SONY TV LEGRAND.
The bathroom is very great with a shower, a bath and a separate toilet.

VIP Cabins :Two VIP double cabins on portside and starboard side with bathroom, shower and toilet; TV and air cond.

Two Guest twin berths cabins port and starboard side with bathroom, shower and toilet, TVand air cond.
Very spacious interior areas.
EUR
€
26000
26000
29000

French
32 years old
Passionate about sailing and engins since a young age, he has over nine years of experience working on yachts and over 100,000 sea miles! Jeremy is a very professional and enthusiastic captain who is reliable, responsible and hard working, possessing excellent communication and interpersonal skills, he is very customer focused and will go the extra mile to make sure his guests have an unforgetable experience onboard. He has worked on both sailing, motor yachts such as SY New Beginnings, MY Noon Tease, MY Sky Light and MY Shake N Bake

Jeremy speaks French, fluent English and basic Spanish

Stewardess Alena Konysheva
Russian
32 years old
Alena has many years experience working in the hospitality industry, starting in a busy restaurant in Russia where she was promoted to manageress and then moving to yachting after travelling to the Caribbean. Alena is an outgoing, enthusiastic, motivated and reliable crew member with a sense of humor she works well under pressure and can easily adapt to different situations, She has previously worked on MY Bliss, MY Shake N Bake, MY Callista, MY Palm B and Blue Attraction

Alena speaks Russian, French, English and basic Spanish

Chef Jean Luc Gaufillier

French
With many years experience in various positions working in the hotel and restaurant industry worldwide, including some of the finest renowned establishments such as the Ritz in Paris, Le Moulin de Mougins and for Michelin starred chefs like Alain Llorca, Jean Luc brings a huge knowledge of hospitality entertaining and fine dining to Vita Dolce. He is also a trained sommelier and enjoys creating perfect harmony with food and wine. A keen sailor, owning his own sailing yacht Jean Luc is happiest combining his passion for food with his passion of the sea

Deck Hand Ansis Kucins

Latvian
An enthusiastic professional and very a hardworking individual who strives to achieve the best in all tasks, with more than 7 years' experience as a boats craftsman added to his previous positions on charter yachts with his love for sports and the water he is perfect to complete the team on Vita Dolce.";s:5:"photo";s:81:"https://www.centralyachtagent.com/yachtadmin/yachtlg/yacht5821/5821brochure44.jpg";s:4:"size";s:1:"4";s:12:"captain_name";s:14:"Jeremy DEDESTE";s:14:"captain_nation";s:6:"French";s:12:"captain_born";s:4:"1986";s:15:"captain_license";s:20:"RYA/MCA Yacht Master";s:18:"captain_yr_sailing";s:1:"0";s:21:"captain_yr_chartering";s:1:"0";s:17:"captain_languages";s:24:"English, French, Russian";s:9:"crew_name";s:16:"Alyona Konysheva";s:16:"crew_nationality";s:7:"Russian";s:12:"crew_license";s:41:"Level 2 award in food safety for catering";s:15:"crew_yr_sailing";s:1:"0";s:18:"crew_yr_chartering";s:1:"0";s:7:"crewimg";a:4:{i:1;a:2:{s:3:"url";s:72:"https://www.centralyachtagent.com/yachtadmin/yachtlg/yacht5821/5821crew1";s:4:"desc";s:7:"Captain";}i:2;a:2:{s:3:"url";s:72:"https://www.centralyachtagent.com/yachtadmin/yachtlg/yacht5821/5821crew2";s:4:"desc";s:10:"Stewardess";}i:3;a:2:{s:3:"url";s:72:"https://www.centralyachtagent.com/yachtadmin/yachtlg/yacht5821/5821crew3";s:4:"desc";s:10:"Chief Cook";}i:4;a:2:{s:3:"url";s:72:"https://www.centralyachtagent.com/yachtadmin/yachtlg/yacht5821/5821crew4";s:4:"desc";s:8:"Deckhand";}}}
a:16:{s:4:"info";s:2310:"Captain Jeremy Dedeste
https://www.centralyachtagent.com/yachtadmin/yachtlg/yacht5821/5821brochure1.jpg
VITA DOLCE is a 32 meters Turkish Gulet custom built in 1997. She has since undergone a full refit in 2013 then in 2018 meaning she is in fantastic condition. She comfortably sleeps up to ten guests in five well-appointed cabins : 1 master, 2 guests cabins & 2 twins cabins, alle equipped with ensuite bathrooms. VITA DOLCE has a tremendous inside and outside space living areas for families or groups of friends to relax and sunbath. She is also the perfect yacht for events on the French Riviera, receptions at quay, sunset cruise, corporate events.... Her extreme comfort and her 4 crew will guarantee Guests to make the most of their time... in style! She was used in the French movie "Entre Amis" in 2015.
a:18:{i:2;a:2:{s:3:"url";s:80:"https://www.centralyachtagent.com/yachtadmin/yachtlg/yacht5821/5821brochure2.jpg";s:4:"desc";s:18:"Cozy area Aft part";}i:3;a:2:{s:3:"url";s:80:"https://www.centralyachtagent.com/yachtadmin/yachtlg/yacht5821/5821brochure3.jpg";s:4:"desc";s:20:"Dining table outside";}i:4;a:2:{s:3:"url";s:80:"https://www.centralyachtagent.com/yachtadmin/yachtlg/yacht5821/5821brochure4.jpg";s:4:"desc";s:7:"Forward";}i:5;a:2:{s:3:"url";s:80:"https://www.centralyachtagent.com/yachtadmin/yachtlg/yacht5821/5821brochure5.jpg";s:4:"desc";s:8:"Aft part";}i:6;a:2:{s:3:"url";s:80:"https://www.centralyachtagent.com/yachtadmin/yachtlg/yacht5821/5821brochure6.jpg";s:4:"desc";s:12:"Master cabin";}i:7;a:2:{s:3:"url";s:80:"https://www.centralyachtagent.com/yachtadmin/yachtlg/yacht5821/5821brochure7.jpg";s:4:"desc";s:15:"Master bathroom";}i:8;a:2:{s:3:"url";s:80:"https://www.centralyachtagent.com/yachtadmin/yachtlg/yacht5821/5821brochure8.jpg";s:4:"desc";s:22:"Guest cabin - Portside";}i:9;a:2:{s:3:"url";s:80:"https://www.centralyachtagent.com/yachtadmin/yachtlg/yacht5821/5821brochure9.jpg";s:4:"desc";s:21:"Twin Cabin - Portside";}i:10;a:2:{s:3:"url";s:81:"https://www.centralyachtagent.com/yachtadmin/yachtlg/yacht5821/5821brochure10.jpg";s:4:"desc";s:28:"Guest cabin - Starboard side";}i:11;a:2:{s:3:"url";s:81:"https://www.centralyachtagent.com/yachtadmin/yachtlg/yacht5821/5821brochure11.jpg";s:4:"desc";s:27:"Twin Cabin - Starboard side";}i:12;a:2:{s:3:"url";s:81:"https://www.centralyachtagent.com/yachtadmin/yachtlg/yacht5821/5821brochure12.jpg";s:4:"desc";s:23:"Bathroom - Guests cabin";}i:13;a:2:{s:3:"url";s:81:"https://www.centralyachtagent.com/yachtadmin/yachtlg/yacht5821/5821brochure13.jpg";s:4:"desc";s:21:"Bathroom - Twin Cabin";}i:14;a:2:{s:3:"url";s:81:"https://www.centralyachtagent.com/yachtadmin/yachtlg/yacht5821/5821brochure14.jpg";s:4:"desc";s:11:"lounge area";}i:15;a:2:{s:3:"url";s:81:"https://www.centralyachtagent.com/yachtadmin/yachtlg/yacht5821/5821brochure15.jpg";s:4:"desc";s:11:"lounge area";}i:16;a:2:{s:3:"url";s:81:"https://www.centralyachtagent.com/yachtadmin/yachtlg/yacht5821/5821brochure16.jpg";s:4:"desc";s:21:"Main deck dining area";}i:17;a:2:{s:3:"url";s:81:"https://www.centralyachtagent.com/yachtadmin/yachtlg/yacht5821/5821brochure17.jpg";s:4:"desc";s:6:"sunbed";}i:18;a:2:{s:3:"url";s:81:"https://www.centralyachtagent.com/yachtadmin/yachtlg/yacht5821/5821brochure18.jpg";s:4:"desc";s:15:"Sunbed and toys";}i:19;a:2:{s:3:"url";s:81:"https://www.centralyachtagent.com/yachtadmin/yachtlg/yacht5821/5821brochure19.jpg";s:4:"desc";s:5:"Party";}}
http://www.cyabrochure.com/ebn/2395/pdhaX/5821/1
http://www.cyabrochure.com/ebn/2395/pdhaX/5821/3
https://www.centralyachtagent.com/yachtadmin/yachtimg/yacht5821/5821brochure99.jpg
a:24:{s:4:"tube";s:3:"Yes";s:6:"guests";s:2:"10";s:8:"maxspeed";s:1:"9";s:11:"pref_pickup";N;s:12:"other_pickup";N;s:5:"draft";s:4:"3.05";s:14:"cruising_speed";s:1:"8";s:7:"helipad";s:2:"No";s:2:"ac";s:4:"Full";s:8:"ac_night";s:2:"No";s:5:"built";s:4:"1997";s:10:"turnaround";s:30:"French Riviera, Corsica, Sardi";s:6:"cabins";s:1:"5";s:4:"king";s:1:"1";s:5:"queen";s:1:"2";s:6:"double";s:1:"0";s:6:"single";s:1:"0";s:4:"twin";s:1:"2";s:7:"pullman";s:1:"0";s:7:"showers";s:1:"5";s:6:"basins";s:1:"5";s:5:"heads";s:1:"0";s:14:"electric_heads";s:1:"5";s:7:"jacuzzi";s:2:"No";}
a:7:{s:4:"flag";s:5:"Malta";s:8:"homeport";s:4:"Nice";s:13:"resort_course";s:0:"";s:12:"yacht_permit";s:1:"2";s:13:"yacht_license";s:1:"2";s:9:"yacht_mca";s:1:"1";s:15:"yacht_insurance";s:15:"Shipowners Club";}

New Bed Linen - Egyptian cotton
New Bath Linen - Egyptian cotton
Ren Bath Line product
Interior Jo Malone ambiance
New tableware
New toys

2018 :
a:22:{s:11:"dinghy_size";s:11:"Zodiac 5.5m";s:12:"kayaks_1_pax";s:1:"2";s:12:"kayaks_2_pax";s:1:"0";s:9:"dinghy_hp";s:4:" 120";s:13:"floating_mats";s:1:"0";s:10:"dinghy_pax";s:2:"11";s:13:"swim_platform";s:0:"";s:16:"water_skis_adult";s:1:"0";s:15:"boarding_ladder";s:18:"Ladder On portside";s:15:"water_skis_kids";s:1:"0";s:14:"sailing_dinghy";s:0:"";s:8:"jet_skis";s:1:"0";s:11:"beach_games";s:1:"0";s:12:"wave_runners";s:1:"0";s:9:"kneeboard";s:1:"0";s:10:"windsurfer";s:1:"0";s:12:"snorkel_gear";s:1:"6";s:17:"underwater_camera";s:1:"0";s:7:"scurfer";s:1:"0";s:16:"underwater_video";s:1:"0";s:10:"wake_board";s:1:"1";s:11:"paddleboard";s:1:"4";}
1
2
0
0
2
0
2013/2018
Yes
Yes
220
Greece
55
8
9

Saloon : The Light color saloon with 360° panoramic view is in two parts : one for dinner and one for lounge with Apple TV and a central music BOSE.
Master Cabin : The main cabin is equipped with a king size bed, a desk and a SONY TV LEGRAND.
The bathroom is very great with a shower, a bath and a separate toilet.

VIP Cabins :Two VIP double cabins on portside and starboard side with bathroom, shower and toilet; TV and air cond.

Two Guest twin berths cabins port and starboard side with bathroom, shower and toilet, TVand air cond.";s:14:"yachtHighPrice";s:13:"€29,000";s:13:"yachtLowPrice";s:13:"€26,000";s:21:"yachtHighNumericPrice";s:5:"29000";s:20:"yachtLowNumericPrice";s:5:"26000";s:19:"yachtCurrencySymbol";s:7:"€";s:13:"yachtCurrency";s:3:"EUR";s:17:"yachtPriceDetails";s:0:"";s:14:"yachtTermsType";s:13:"Plus Expenses";s:17:"yachtTermsTypeNum";s:1:"2";s:11:"yachtVcrDvd";s:3:"Yes";s:16:"yachtSalonStereo";s:3:"Yes";s:11:"yachtNumDvd";s:3:"yes";s:11:"yachtNumCds";s:0:"";s:15:"yachtBoardGames";s:3:"Yes";s:13:"yachtNumBooks";s:3:"yes";s:14:"yachtCamCorder";s:1:"0";s:14:"yachtNumDineIn";s:3:"yes";s:14:"yachtSunAwning";s:3:"Yes";s:12:"yachtHammock";s:0:"";s:15:"yachtWindScoops";s:0:"";s:15:"yachtDeckShower";s:3:"Yes";s:11:"yachtBimini";s:3:"Yes";s:17:"yachtSpecialDiets";s:3:"Yes";s:11:"yachtKosher";s:3:"Inq";s:8:"yachtBBQ";s:3:"Yes";s:16:"yachtGayCharters";s:3:"Inq";s:17:"yachtNudeCharters";s:3:"Inq";s:14:"yachtHairDryer";s:1:"0";s:13:"yachtNumHatch";s:3:"yes";s:15:"yachtGuestSmoke";s:30:"Smoking outside only permitted";s:13:"yachtGuestPet";s:1:"0";s:20:"yachtChildrenAllowed";s:3:"Yes";s:16:"yachtMinChildAge";s:0:"";s:14:"yachtGenerator";s:15:"2x onan 17.5 kw";s:12:"yachtEngines";s:650:"VITA DOLCE is a 32 meters Turkish Gulet custom built in 1997. She has since undergone a full refit in 2013 and in 2018 meaning she is in fantastic condition. She comfortably sleeps up to ten guests in five well-appointed cabins. VITA DOLCE has a tremendous inside and outside space living areas for families or groups of friends to relax and sunbath. She is also the perfect yacht for events in the French Riviera and receptions at quay. Her extreme comfort and her 4 crew will guarantee Guests to make the most of their time... in style! She was used in the French movie "Entre Amis" in 2015. ";s:9:"yachtFuel";s:2:"55";s:13:"yachtInverter";s:0:"";s:13:"yachtVoltages";s:3:"220";s:15:"yachtWaterMaker";s:3:"yes";s:18:"yachtWaterCapacity";s:4:"1500";s:13:"yachtIceMaker";s:3:"Yes";s:11:"yachtDinghy";s:11:"Zodiac 5.5m";s:13:"yachtDinghyHp";s:4:" 120";s:14:"yachtDinghyPax";s:2:"11";s:15:"yachtAdultWSkis";s:1:"0";s:13:"yachtKidsSkis";s:1:"0";s:12:"yachtJetSkis";s:1:"0";s:12:"yachtWaveRun";s:1:"0";s:14:"yachtKneeBoard";s:1:"0";s:18:"yachtStandUpPaddle";s:1:"4";s:13:"yachtWindSurf";s:1:"0";s:16:"yachtGearSnorkel";s:1:"6";s:9:"yachtTube";s:3:"Yes";s:12:"yachtScurfer";s:1:"0";s:14:"yachtWakeBoard";s:1:"1";s:14:"yacht1ManKayak";s:1:"2";s:14:"yacht2ManKayak";s:1:"0";s:11:"yachtSeaBob";s:2:"No";s:15:"yachtSeaScooter";s:2:"No";s:17:"yachtKiteBoarding";s:0:"";s:24:"yachtKiteBoardingDetails";s:0:"";s:15:"yachtFishPermit";s:0:"";s:14:"yachtFloatMats";s:1:"0";s:17:"yachtSwimPlatform";s:0:"";s:19:"yachtBoardingLadder";s:18:"Ladder On portside";s:18:"yachtDinghySailing";s:0:"";s:15:"yachtGamesBeach";s:1:"0";s:16:"yachtFishingGear";s:1:"0";s:17:"yachtFishGearType";s:0:"";s:16:"yachtNumFishRods";s:0:"";s:18:"yachtUnderWaterCam";s:1:"0";s:20:"yachtUnderWaterVideo";s:1:"0";s:19:"yachtGreenMakeWater";s:3:"Yes";s:21:"yachtGreenReuseBottle";s:3:"Yes";s:15:"yachtGreenOther";s:18:"Eco friendly yacht";s:17:"yachtScubaOnboard";s:35:"Yacht offers Rendezvous Diving only";s:17:"yachtResortCourse";s:0:"";s:15:"yachtFullCourse";s:0:"";s:16:"yachtLicenseInfo";s:1:"-";s:15:"yachtCompressor";s:11:"Not Onboard";s:17:"yachtNumDiveTanks";s:1:"0";s:11:"yachtNumBCS";s:1:"0";s:12:"yachtNumRegs";s:1:"0";s:16:"yachtNumWetSuits";s:1:"0";s:15:"yachtNumWeights";s:1:"0";s:14:"yachtNumDivers";s:1:"0";s:13:"yachtNumDives";s:0:"";s:18:"yachtNumNightDives";s:1:"0";s:18:"yachtNumDiveLights";s:1:"0";s:13:"yachtDiveInfo";s:0:"";s:14:"yachtDiveCosts";s:0:"";s:9:"yachtPic1";s:80:"https://www.centralyachtagent.com/yachtadmin/yachtlg/yacht5821/5821brochure1.jpg";s:10:"yachtDesc1";s:773:"VITA DOLCE is a 32 meters Turkish Gulet custom built in 1997. She has since undergone a full refit in 2013 then in 2018 meaning she is in fantastic condition. She comfortably sleeps up to ten guests in five well-appointed cabins : 1 master, 2 guests cabins & 2 twins cabins, alle equipped with ensuite bathrooms. VITA DOLCE has a tremendous inside and outside space living areas for families or groups of friends to relax and sunbath. She is also the perfect yacht for events on the French Riviera, receptions at quay, sunset cruise, corporate events.... Her extreme comfort and her 4 crew will guarantee Guests to make the most of their time... in style! She was used in the French movie "Entre Amis" in 2015. ";s:9:"yachtPic2";s:80:"https://www.centralyachtagent.com/yachtadmin/yachtlg/yacht5821/5821brochure2.jpg";s:10:"yachtDesc2";s:18:"Cozy area Aft part";s:9:"yachtPic3";s:80:"https://www.centralyachtagent.com/yachtadmin/yachtlg/yacht5821/5821brochure3.jpg";s:10:"yachtDesc3";s:20:"Dining table outside";s:9:"yachtPic4";s:80:"https://www.centralyachtagent.com/yachtadmin/yachtlg/yacht5821/5821brochure4.jpg";s:10:"yachtDesc4";s:7:"Forward";s:9:"yachtPic5";s:80:"https://www.centralyachtagent.com/yachtadmin/yachtlg/yacht5821/5821brochure5.jpg";s:10:"yachtDesc5";s:8:"Aft part";s:9:"yachtPic6";s:80:"https://www.centralyachtagent.com/yachtadmin/yachtlg/yacht5821/5821brochure6.jpg";s:10:"yachtDesc6";s:12:"Master cabin";s:9:"yachtPic7";s:80:"https://www.centralyachtagent.com/yachtadmin/yachtlg/yacht5821/5821brochure7.jpg";s:10:"yachtDesc7";s:15:"Master bathroom";s:9:"yachtPic8";s:80:"https://www.centralyachtagent.com/yachtadmin/yachtlg/yacht5821/5821brochure8.jpg";s:10:"yachtDesc8";s:22:"Guest cabin - Portside";s:9:"yachtPic9";s:80:"https://www.centralyachtagent.com/yachtadmin/yachtlg/yacht5821/5821brochure9.jpg";s:10:"yachtDesc9";s:21:"Twin Cabin - Portside";s:10:"yachtPic10";s:81:"https://www.centralyachtagent.com/yachtadmin/yachtlg/yacht5821/5821brochure10.jpg";s:11:"yachtDesc10";s:28:"Guest cabin - Starboard side";s:10:"yachtPic11";s:81:"https://www.centralyachtagent.com/yachtadmin/yachtlg/yacht5821/5821brochure11.jpg";s:11:"yachtDesc11";s:27:"Twin Cabin - Starboard side";s:10:"yachtPic12";s:81:"https://www.centralyachtagent.com/yachtadmin/yachtlg/yacht5821/5821brochure12.jpg";s:11:"yachtDesc12";s:23:"Bathroom - Guests cabin";s:10:"yachtPic13";s:81:"https://www.centralyachtagent.com/yachtadmin/yachtlg/yacht5821/5821brochure13.jpg";s:11:"yachtDesc13";s:21:"Bathroom - Twin Cabin";s:10:"yachtPic14";s:81:"https://www.centralyachtagent.com/yachtadmin/yachtlg/yacht5821/5821brochure14.jpg";s:11:"yachtDesc14";s:11:"lounge area";s:10:"yachtPic15";s:81:"https://www.centralyachtagent.com/yachtadmin/yachtlg/yacht5821/5821brochure15.jpg";s:11:"yachtDesc15";s:11:"lounge area";s:10:"yachtPic16";s:81:"https://www.centralyachtagent.com/yachtadmin/yachtlg/yacht5821/5821brochure16.jpg";s:11:"yachtDesc16";s:21:"Main deck dining area";s:10:"yachtPic17";s:81:"https://www.centralyachtagent.com/yachtadmin/yachtlg/yacht5821/5821brochure17.jpg";s:11:"yachtDesc17";s:6:"sunbed";s:10:"yachtPic18";s:81:"https://www.centralyachtagent.com/yachtadmin/yachtlg/yacht5821/5821brochure18.jpg";s:11:"yachtDesc18";s:15:"Sunbed and toys";s:10:"yachtPic19";s:81:"https://www.centralyachtagent.com/yachtadmin/yachtlg/yacht5821/5821brochure19.jpg";s:11:"yachtDesc19";s:5:"Party";s:11:"yachtLayout";s:81:"https://www.centralyachtagent.com/yachtadmin/yachtlg/yacht5821/5821brochure88.jpg";s:18:"yachtFullEbrochure";s:48:"http://www.cyabrochure.com/ebn/2395/pdhaX/5821/3";s:14:"yachtFullRates";s:48:"http://www.cyabrochure.com/ebn/2395/pdhaX/5821/4";s:14:"yachtOtherToys";s:0:"";s:19:"yachtOtherEntertain";s:194:"2018 :
New Bed Linen - Egyptian cotton
New Bath Linen - Egyptian cotton
Ren Bath Line product
Interior Jo Malone ambiance
New tableware
New toys
";s:16:"yachtCommunicate";s:0:"";s:15:"yachtSummerArea";s:52:"W. Med -Riviera/Cors/Sard., W. Med - Spain/Balearics";s:15:"yachtWinterArea";s:26:"W. Med -Riviera/Cors/Sard.";s:12:"yachtShowers";s:1:"5";s:15:"yachtWashBasins";s:1:"5";s:10:"yachtHeads";s:1:"0";s:18:"yachtElectricHeads";s:1:"5";s:14:"yachtTpInHeads";s:0:"";s:15:"yachtSampleMenu";s:0:"";s:13:"yachtMenu1Pic";s:0:"";s:13:"yachtMenu2Pic";s:0:"";s:13:"yachtMenu3Pic";s:0:"";s:13:"yachtMenu4Pic";s:0:"";s:13:"yachtMenu5Pic";s:0:"";s:13:"yachtMenu6Pic";s:0:"";s:13:"yachtMenu7Pic";s:0:"";s:13:"yachtMenu8Pic";s:0:"";s:13:"yachtMenu9Pic";s:0:"";s:14:"yachtMenu10Pic";s:0:"";s:9:"yachtCrew";s:1:"4";s:14:"yachtCrewSmoke";s:3:"Inq";s:13:"yachtCrewPets";s:3:"Yes";s:16:"yachtCrewPetType";s:10:"On request";s:16:"yachtCaptainName";s:14:"Jeremy DEDESTE";s:18:"yachtCaptainNation";s:6:"French";s:16:"yachtCaptainBorn";s:4:"1986";s:15:"yachtCaptainLic";s:20:"RYA/MCA Yacht Master";s:18:"yachtCaptainYrSail";s:1:"0";s:19:"yachtCaptainYrChart";s:1:"0";s:16:"yachtCaptainLang";s:24:"English, French, Russian";s:13:"yachtCrewName";s:16:"Alyona Konysheva";s:14:"yachtCrewTitle";s:10:"Stewardess";s:15:"yachtCrewNation";s:7:"Russian";s:15:"yachtCrewYrBorn";s:4:"1986";s:12:"yachtCrewLic";s:41:"Level 2 award in food safety for catering";s:15:"yachtCrewYrSail";s:1:"0";s:16:"yachtCrewYrChart";s:1:"0";s:13:"yachtCrewLang";s:0:"";s:16:"yachtCrewProfile";s:2310:"Captain Jeremy Dedeste
French
32 years old
Passionate about sailing and engins since a young age, he has over nine years of experience working on yachts and over 100,000 sea miles! Jeremy is a very professional and enthusiastic captain who is reliable, responsible and hard working, possessing excellent communication and interpersonal skills, he is very customer focused and will go the extra mile to make sure his guests have an unforgetable experience onboard. He has worked on both sailing, motor yachts such as SY New Beginnings, MY Noon Tease, MY Sky Light and MY Shake N Bake

Jeremy speaks French, fluent English and basic Spanish

Stewardess Alena Konysheva
Russian
32 years old
Alena has many years experience working in the hospitality industry, starting in a busy restaurant in Russia where she was promoted to manageress and then moving to yachting after travelling to the Caribbean. Alena is an outgoing, enthusiastic, motivated and reliable crew member with a sense of humor she works well under pressure and can easily adapt to different situations, She has previously worked on MY Bliss, MY Shake N Bake, MY Callista, MY Palm B and Blue Attraction

Alena speaks Russian, French, English and basic Spanish

Chef Jean Luc Gaufillier

French
With many years experience in various positions working in the hotel and restaurant industry worldwide, including some of the finest renowned establishments such as the Ritz in Paris, Le Moulin de Mougins and for Michelin starred chefs like Alain Llorca, Jean Luc brings a huge knowledge of hospitality entertaining and fine dining to Vita Dolce. He is also a trained sommelier and enjoys creating perfect harmony with food and wine. A keen sailor, owning his own sailing yacht Jean Luc is happiest combining his passion for food with his passion of the sea

Deck Hand Ansis Kucins

Latvian
An enthusiastic professional and very a hardworking individual who strives to achieve the best in all tasks, with more than 7 years' experience as a boats craftsman added to his previous positions on charter yachts with his love for sports and the water he is perfect to complete the team on Vita Dolce.";s:14:"yachtCrewPhoto";s:81:"https://www.centralyachtagent.com/yachtadmin/yachtlg/yacht5821/5821brochure44.jpg";s:13:"yachtCrew1Pic";s:72:"https://www.centralyachtagent.com/yachtadmin/yachtlg/yacht5821/5821crew1";s:13:"yachtCrew2Pic";s:72:"https://www.centralyachtagent.com/yachtadmin/yachtlg/yacht5821/5821crew2";s:13:"yachtCrew3Pic";s:72:"https://www.centralyachtagent.com/yachtadmin/yachtlg/yacht5821/5821crew3";s:13:"yachtCrew4Pic";s:72:"https://www.centralyachtagent.com/yachtadmin/yachtlg/yacht5821/5821crew4";s:13:"yachtCrew5Pic";s:0:"";s:13:"yachtCrew6Pic";s:0:"";s:13:"yachtCrew7Pic";s:0:"";s:13:"yachtCrew8Pic";s:0:"";s:13:"yachtCrew9Pic";s:0:"";s:14:"yachtCrew10Pic";s:0:"";s:14:"yachtCrew1Name";s:14:"Jeremy DEDESTE";s:14:"yachtCrew2Name";s:16:"Alyona Konysheva";s:14:"yachtCrew3Name";s:19:"Jean Luc Gaufillier";s:14:"yachtCrew4Name";s:12:"Ansis Kucins";s:14:"yachtCrew5Name";s:0:"";s:14:"yachtCrew6Name";s:0:"";s:14:"yachtCrew7Name";s:0:"";s:14:"yachtCrew8Name";s:0:"";s:14:"yachtCrew9Name";s:0:"";s:15:"yachtCrew10Name";s:0:"";s:15:"yachtCrew1Title";s:7:"Captain";s:15:"yachtCrew2Title";s:10:"Stewardess";s:15:"yachtCrew3Title";s:10:"Chief Cook";s:15:"yachtCrew4Title";s:8:"Deckhand";s:15:"yachtCrew5Title";s:0:"";s:15:"yachtCrew6Title";s:0:"";s:15:"yachtCrew7Title";s:0:"";s:15:"yachtCrew8Title";s:0:"";s:15:"yachtCrew9Title";s:0:"";s:16:"yachtCrew10Title";s:0:"";s:9:"yachtFlag";s:5:"Malta";s:13:"yachtHomePort";s:4:"Nice";s:14:"yachtWBasePort";s:4:"Nice";s:8:"yachtRig";s:0:"";s:14:"yachtGrossTons";s:0:"";s:12:"yachtAcNight";s:2:"No";s:16:"yachtAcSurCharge";s:0:"";s:9:"yachtTubs";s:1:"1";s:20:"yachtLocationDetails";s:196:"M/Y Vita Dolce is available on the French Riviera and Corsica. She is also a great yacht for static event such as MIPIM, Film Festival, Tax, Free, Cannes Lions and to organize a party at quay !";s:10:"yachtTerms";s:4:"MYBA";s:13:"yachtCaptOnly";s:0:"";s:15:"yachtSpecialCon";s:0:"";s:14:"yachtContracts";s:0:"";s:21:"yachtConsumptionUnits";s:9:"Litres/Hr";s:10:"yachtRange";s:0:"";s:11:"yachtPermit";s:1:"2";s:12:"yachtLicense";s:1:"2";s:8:"yachtMca";s:1:"1";s:16:"yachtDeepSeaFish";s:0:"";s:10:"yachtSatTv";s:3:"Yes";s:9:"yachtIpod";s:0:"";s:10:"yachtVideo";s:3:"DVD";s:17:"yachtSailInstruct";s:3:"Yes";s:13:"yachtInternet";s:12:"Onboard WIFI";s:16:"yachtCaptainOnly";s:0:"";s:16:"yachtBrokerNotes";s:0:"";s:10:"yachtNumGC";i:4;s:13:"yachtGC1Title";s:35:"French family living the Dolce Vita";s:8:"yachtGC1";s:650:"20 ans de bateau avec des équipages différents mais c'est le top du top. Votre générosité est à toute épreuves. Mille merci pour votre accueille. Un capitaine très très professionnel. Un équipage toujours à l'écoute. Jean Luc un homme extraordinaire. Ali une mère pour nous. Ansis à le cœur sur la main. Que dire de plus : Je n'oublierai jamais ces vacances.
Hé oui Vita Dolce, un bateau qui mérite de continuer à naviguer car il est conviviale et majestueux.
Surtout ne changer rien.
";s:10:"yachtGC1P1";s:0:"";s:10:"yachtGC1P2";s:0:"";s:10:"yachtGC1P3";s:0:"";s:13:"yachtGC2Title";s:31:"Britsih & Australian guests";s:8:"yachtGC2";s:527:"Thank you to a truly wonderful crew for a really great trip in our favorite part of the world.

Thank you beyond words – Heaven, Bliss…

Child words :

- Thank you for a lovely holiday, it has been so fun. Great crew, thank you uncle « sunny man ». Love – Honor.

- Thank you so much peps it has been so much fun.

- Thank you so much for a amazing holiday. You are all so amazing. I hope I come back. Thanks »
";s:10:"yachtGC2P1";s:0:"";s:10:"yachtGC2P2";s:0:"";s:10:"yachtGC2P3";s:0:"";s:13:"yachtGC3Title";s:17:"Wow what a voyage";s:8:"yachtGC3";s:141:"Loved every minute of our stay on Vita Dolce – best crew ever totally spoiled us. Thank you. Love.
Australian guests - July 2018";s:10:"yachtGC3P1";s:0:"";s:10:"yachtGC3P2";s:0:"";s:10:"yachtGC3P3";s:0:"";s:13:"yachtGC4Title";s:15:"American guests";s:8:"yachtGC4";s:144:"Thank you so much to the whole Vita Dolce crew ! From watermelon pizza to waterskiing, we had the best time.
Love, Fabulous crew
";s:10:"yachtGC4P1";s:0:"";s:10:"yachtGC4P2";s:0:"";s:10:"yachtGC4P3";s:0:"";s:15:"yachtInsCompany";s:15:"Shipowners Club";s:11:"yachtPolicy";s:6:"917768";s:14:"yachtLiability";s:38:"P&I, Trading insurance certificate";s:18:"yachtEffectiveDate";s:10:"09/03/2018";s:17:"yachtContractName";s:29:"Trading Insurance Certificate";s:18:"yachtCoverageAreas";s:0:"";s:12:"yachtInsFlag";s:5:"Malta";s:16:"yachtInsHomeport";s:7:"Valetta";s:11:"yachtRegNum";s:6:"108227";s:14:"yachtConPhone1";s:17:"+33 6 10 41 31 13";s:14:"yachtConPhone2";s:17:"+33 4 92 00 56 43";s:14:"yachtConPhone3";s:0:"";s:11:"yachtConFax";s:0:"";s:17:"yachtWaveConEmail";s:18:"[email protected]";s:13:"yachtConOther";s:15:"[email protected]";s:12:"yachtManager";s:31:"The WOY - The World Of Yachting";s:16:"yachtManagerName";s:15:"Hermione ANDAIN";s:17:"yachtManagerPhone";s:19:"+33 (0) 610 413 113";s:16:"yachtManagerToll";s:0:"";s:17:"yachtManagerEmail";s:18:"[email protected]";}
O:8:"stdClass":311:{s:7:"yachtId";s:4:"5821";s:9:"yachtName";s:10:"Vita Dolce";s:17:"yachtPreviousName";s:0:"";s:9:"yachtLogo";s:82:"https://www.centralyachtagent.com/yachtadmin/yachtimg/yacht5821/5821brochure99.jpg";s:9:"yachtType";s:5:"Power";s:11:"yachtLength";s:2:"32";s:13:"yachtPowerCat";s:1:"N";s:8:"sizeFeet";s:9:"104.00 Ft";s:9:"sizeMeter";s:7:"32.00 m";s:9:"yachtBeam";s:4:"7.38";s:10:"yachtDraft";s:4:"3.05";s:10:"yachtUnits";s:6:"Metres";s:8:"yachtPax";s:2:"10";s:11:"yachtCabins";s:1:"5";s:9:"yachtKing";s:1:"1";s:10:"yachtQueen";s:1:"2";s:17:"yachtSingleCabins";s:1:"0";s:17:"yachtDoubleCabins";s:1:"0";s:15:"yachtTwinCabins";s:1:"2";s:18:"yachtPullmanCabins";s:1:"0";s:10:"yachtRefit";s:9:"2013/2018";s:12:"yachtHelipad";s:2:"No";s:12:"yachtJacuzzi";s:2:"No";s:8:"yachtGym";s:2:"No";s:16:"yachtStabilizers";s:2:"No";s:14:"yachtElevators";s:2:"No";s:21:"yachtWheelChairAccess";s:2:"No";s:7:"yachtAc";s:4:"Full";s:15:"yachtPrefPickUp";s:14:"French Riviera";s:16:"yachtOtherPickUp";s:34:"Corsica & Sardinia with delive";s:15:"yachtTurnAround";s:30:"French Riviera, Corsica, Sardi";s:14:"yachtYearBuilt";s:4:"1997";s:12:"yachtBuilder";s:12:"Custom Built";s:14:"yachtBrokerWeb";s:34:"http://www.viewyacht.com/vitadolce";s:12:"yachtUserWeb";s:48:"http://www.cyabrochure.com/ebn/2395/pdhaX/5821/1";s:13:"yachtVideoUrl";s:0:"";s:12:"yachtV360Url";s:0:"";s:16:"yachtCruiseSpeed";s:1:"8";s:13:"yachtMaxSpeed";s:1:"9";s:19:"yachtAccommodations";s:618:"Very spacious interior areas.
M/Y Vita Dolce is available on the French Riviera and Corsica. She is also a great yacht for static event such as MIPIM, Film Festival, Tax, Free, Cannes Lions and to organize a party at quay !
No
Yes
32.00 m
55
Litres/Hr
Plus Expenses
2
http://www.cyabrochure.com/ebn/2395/pdhaX/5821/4
Inq
a:3:{s:16:"green_initiative";s:3:"Yes";s:16:"reusable_bottles";s:3:"Yes";s:19:"other_green_efforts";s:18:"Eco friendly yacht";}
a:15:{s:5:"tanks";s:1:"0";s:9:"wet_suits";s:1:"0";s:15:"number_of_dives";s:0:"";s:11:"night_dives";s:1:"0";s:9:"dive_info";s:0:"";s:13:"communication";s:0:"";s:11:"full_course";s:0:"";s:14:"air_compressor";s:11:"Not Onboard";s:3:"bcs";s:1:"0";s:11:"weight_sets";s:1:"0";s:16:"number_of_divers";s:1:"0";s:20:"registrations_number";s:1:"0";s:11:"dive_lights";s:1:"0";s:10:"dive_costs";s:0:"";s:14:"scuba_on_board";s:35:"Yacht offers Rendezvous Diving only";}
a:4:{s:12:"fishing_gear";s:1:"0";s:17:"fishing_gear_type";s:0:"";s:4:"rods";s:0:"";s:16:"deep_sea_fishing";s:0:"";}
Malta
French
Russian
Yacht offers Rendezvous Diving only
1657456474

Reviews

French family living the Dolce Vita

20 ans de bateau avec des équipages différents mais c'est le top du top. Votre générosité est à toute épreuves. Mille merci pour votre accueille. Un capitaine très très professionnel. Un équipage toujours à l'écoute. Jean Luc un homme extraordinaire. Ali une mère pour nous. Ansis à le cœur sur la main. Que dire de plus : Je n'oublierai jamais ces vacances.
Hé oui Vita Dolce, un bateau qui mérite de continuer à naviguer car il est conviviale et majestueux.
Surtout ne changer rien.


Britsih & Australian guests

Thank you to a truly wonderful crew for a really great trip in our favorite part of the world.

Thank you beyond words – Heaven, Bliss…

Child words :

- Thank you for a lovely holiday, it has been so fun. Great crew, thank you uncle « sunny man ». Love – Honor.

- Thank you so much peps it has been so much fun.

- Thank you so much for a amazing holiday. You are all so amazing. I hope I come back. Thanks »


Wow what a voyage

Loved every minute of our stay on Vita Dolce – best crew ever totally spoiled us. Thank you. Love.
Australian guests - July 2018

American guests

Thank you so much to the whole Vita Dolce crew ! From watermelon pizza to waterskiing, we had the best time.
Love, Fabulous crew


6
13
a:12:{s:10:"11-10-2021";i:1;s:10:"11-14-2021";i:1;s:10:"11-18-2021";i:1;s:10:"11-25-2021";i:1;s:10:"11-29-2021";i:1;s:10:"12-01-2021";i:2;s:10:"12-31-2021";i:1;s:10:"01-30-2022";i:1;s:10:"02-01-2022";i:1;s:10:"02-04-2022";i:1;s:10:"02-25-2022";i:1;s:10:"03-01-2022";i:1;}
The WOY - The World Of Yachting
a:2:{s:7:"updated";i:1657650312;s:5:"links";a:0:{}}